Foreign interlopers often receive a raw deal in the good old US of A, think of all the British agencies that came unstuck over there (most notably Saatchi & Saatchi when it bought Bates) as the natives extract stupendously high prices for ropey assets.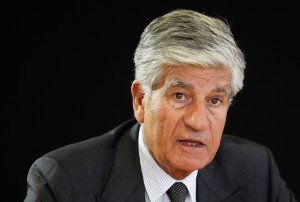 Is Publicis Groupe boss Maurice Levy (left) heading the same way with his $3.7bn buy of digital advertising and consulting group Sapient (which owns Sapient Nitro)?
Levy paid $25 a share for Sapient, a hefty premium considering that the shares were trading at $15 only a week ago. So some 'lucky' people filled their boots.
But maybe the Frenchman had no choice. Over the last couple of years he's seen a proposed merger with Interpublic hit the buffers as IPG's share price rose sharply, the collapse of the $35bn merger with Omnicom and, maybe, a $2bn bid for internet company Criteo fail to fly. He obviously thinks Publicis needs a game-changing deal in the US so had to complete the takeover of Sapient, whatever the price, for his own credibility.
The FT's Lex column thinks there needs to be $800m of value from extra sales to justify the deal at this price, even allowing for a generous $500m of cost savings over ten years. A third of Sapient's business is in IT consulting for governments and others, not home territory for Publicis but maybe something Levy wants to get into.
But Publicis keeps buying all these digital outfits ($3bn worth of digitas, Razorfish, Rosetta and LBi) and then bundling them all together. Now presumably a big chunk of that $3bn was 'brand value.' So where's that gone?
WPP reported its third quarter figures last week, which were much as anticipated so we didn't report them (they weren't great though). But it was interesting that advertising and media buying were standouts in terms of growth and profit whereas 'digital,' in so far as it's possible to separate it these days, was not.
And that's because anybody can do digital. You can't exist as a company without such ability. So margins in digital are under constant pressure from new entrants to the market and, with a few exceptions such as WPP's AKQA, star creative performers – who can command high prices – are thin on the ground. Star individuals in digital are also conspicuous by their absence. Who's the digital equivalent of John Hegarty or, if he ever returns to adland, Alex Bogusky?
Most industry pundits have heaped praise on Levy for this deal, which they see as big, bold and imaginative. We beg to differ – or, at least, reserve judgement.
Will Sapient and Sapient Nitro be brands to conjure with in five years' time? $3.7bn should say they will be.