Is WPP boss Sir Martin Sorrell gradually dismantling Kantar, his big research offering?
We only ask because WPP this week announced the second of two deals which see big slugs of Kantar business turned into minority stakes in rival companies.
Kantar Media has sold its US TV audience measurement business to independent operator Rentrak for $98m. WPP is also buying $56m of Rentrak stock, giving it a stake of 16.7 per cent with the option to raise the stake to 20 per cent. So a big shareholding but nowhere near control.
This presumably marks the end of Kantar's attempt to challenge the mighty Nielsen in the US TV stakes; that's now Rentrak's job, armed as it now is with WPP data.
A couple of weeks ago WPP announced that it was rolling its 'Xaxis For Publishers' (XFP) business into independent ad server company AppNexus in return for an undisclosed stake. WPP would also pay AppNexus $25m. So that's two businesses and $123m in cash for two minority stakes. Not sure whether the rather mysterious Xaxis (another data operation) comes under Kantar or media holding company GroupM (maybe it's both). But it's quite a dramatic (and pricey) move back – although WPP has pitched both, naturally, as a move forward.
There are two factors here. The first is the unease among many clients about WPP acting as both agency and media owner (in the case of XFP) and agency and measurement provider, as in the case of Kantar's attempt to challenge Nielsen. In both instances WPP argued that its superior data offered customers a better deal but this pitch doesn't seem to have worked. WPP has had similar problem with its audience measurement offering in India.
The second is the performance of Kantar itself. It has consistently failed to match the rate of return achieved by some of WPP's other businesses: chiefly 'traditional' agency activities and media buying. WPP may bang on about 'digital' becoming the biggest part of the group but it's still the old stuff that makes the most money (although it's hard these days to separate digital and trad advertising, as everything comes with a website, social media campaign etc).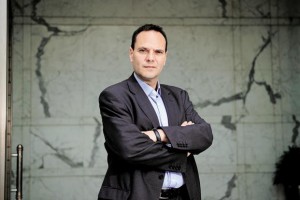 Kantar, still run by Eric Salama (left) as far as I know, was hobbled by Sorrell's ill-advised purchase of traditional research firm TNS Sofres for £1.1bn in 2008, just before the financial crash. Typically he moved in to to thwart an agreed merger with Germany's GfK, ending up with an overpriced, unhappy acquisition that was in the early stages of seeing cheaper online research outfits eat its breakfast, lunch and dinner.
Sorrell has become more circumspect since, concentrating on smaller buys in developing markets. His biggest deal since then has been buying digital agency AKQA for $540m.
But he complained the other day that growth was slowing in the global ad/media market as clients hammered down fees – which may have happened at XFP. As there isn't a transformative deal on the horizon (Interpublic would hardly fit this bill and Sorrell says he doesn't want to buy it anyway) he has to do something to perk up WPP's performance in the aforementioned low growth ad market.
Developing economies aren't going to do it for him, in the near future anyway. The so-called BRICs (Brazil, Russia, India, China) all have their issues, some (Russia) worse than others. His 'next 11' or whatever the number is, are also slowing. The Middle East and Africa currently make Russia look like a safe bet – which it isn't.
So a bit of surgery may be required closer to home.
Now these two businesses exiting Kantar (or the data side of WPP anyway) in such short order may be a coincidence. The money may indeed be better invested in challenger independent operators. But they're a risk too.
If we see any other businesses exiting Kantar, or mergers within the group, then it's safe to say that something more dramatic than tweaking is going on.