A very entertaining drama is being played out at London's Old Bailey courthouse, best known for celebrated murder trials over the decades.
This one, of course, involves lesser matters: charges of phone hacking, bribing public officials and concealing evidence of such from the police. And yesterday the proceedings proper started with a bang as it was revealed to the jury that three former senior News of the World news editors, Neville Thurlbeck, Greg Miskiw and James Weatherup had pleaded guilty to phone hacking. As had the paper's favourite 'private investigator Glenn Mulcaire, who has already done time for a previous phone hacking offence.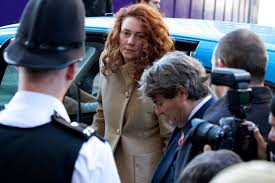 News which will have been met with interest by the accused in this case: especially former News of the World editor and News International CEO Rebekah Brooks (left) and another former NoW editor and one-time coalition government communications chief Andy Coulson. Brooks, Coulson and six other defendants have pleaded not guilty to all charges.
Also involved in proceedings are legal representatives of News Corp, Rupert Murdoch's new company that now owns the former News international media assets including the Sun and Times Newspapers. The phone hacking and other scandals that forced the closure of the highly profitable News of the World have already cost the Murdoch empire around $400m. News Corp execs are anxious that further revelations do not lead to charges by American prosecutors.
The trial, opened by the prosecution's Andrew Edis QC yesterday, is scheduled to last six months.