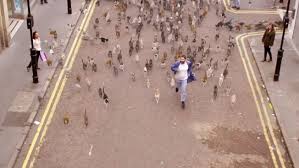 Thank goodness Mother has finally seen the light (or heard the noise properly) and pensioned off its former provider of voiceovers for Momeysupermarket.com.
This choice probably seemed a coup at the time as it was Sir Patrick Stewart of Star Wars and Royal Shakespeare Company fame. I always thought it was that other noisy thespian Brian Blessed.
Anyway he had to go and now we can all concentrate on a nice new ad – 'Running with Wolves' – directed by Jeff Low for Biscuit Filmworks UK, the UK branch of the all-conquering LA production company.
Now all we need is Comparethemarket to get rid off that bloody Welshman.