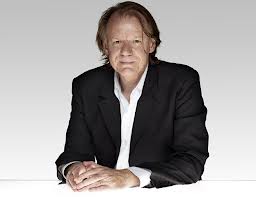 Michael Lee is a former ECD of Euro RSCG New York, handling Volvo worldwide. Born in England, he spent 20 years in New York agencies winning and working on integrated accounts including Intel, JP Morgan, Exxon Mobil and Jaguar. In 2012 he set up agency search consultancy Madam.
I have always loved work that made an audience feel something about a product or company.
Work that made them feel something different, something exhilarating, powerful, inspiring and even magical.
Not purely work that purely imparted knowledge of something, why it may be better, made better, why they need it.
The age old Latin vs Anglo-Saxon approach to advertising argument I suppose.
II you can capture that, I believe you have something remarkably powerful.
Sir John Hegarty doesn't necessarily disagree: "the appeal of a brand can be based on not just functional performances, but on how they look and feel. More and more brands are in the fashion business".
And generally, (although generalizations are generally wrong) I felt that US work tended more towards this aim, more than the UK. Maybe that's changed, but definitely it was the case. And maybe that's why I found myself in NY for the past 20-odd years.
So that's what I've based my selection on. Work that makes you feel something.
When I'm on the island all alone, I'm going to need all the emotional attachment I can get.
So here goes, In no particular order:
Levi's. Route 66

A 2.50 min blockbuster 1976 cinema spot if my memory serves me correctly.
Adrian Lyne and a fast paced (for then) world of Ray-Bans, hand-held cameras, wide lenses, big trucks, greyhound buses, handsome cowboys, cheeky girls, the desert and the famous Route 66.
For an impressionable young art director this was what putting on a pair of Levi's feels like.
Apple iPod launch spots
http://www.youtube.com/watch?v=hQw3mVWXncg
I loved this work. The whole campaign. The print, the putdoor, the TV.
They found a way with strikingly fresh execution, to portray what music did to people. You felt their enjoyment, their engagement, the sheer joy of using the product.
These spots caused a stir at award shows because people kept looking for the idea.
Of course they were looking in the wrong place.
US. Anti Smoking. Truth campaign. Body bags.

This campaign made me feel different about the issue.
The only anti smoking work that ever did.
Because CPB changed who the enemy is.
Advertising for years made the cigarette, the problem.
CPB made the cigarette company the problem.
The Kids vs The Big Man.
The nasty corporate world that is manipulating them.
Just a genius campaign.
Chrysler. Born of fire
http://www.youtube.com/watch?v=T3guZ7dMAkc
This spot is more than a spot about a car.
This spot makes an entire city feel good about itself.
Feel proud about what they do, feel good about what they make every day.
As opposed to being told they're crap.
Very powerful emotional piece, inspiring script from Joe Staples, great filmwork from the wonderful Sam Bayer, great soundtrack and finale from a feisty Eminem lifting the proverbial finger.
"This is the Motor City. And this is what we do."
Damn it.
Pity about the bankruptcy though.
Lanson champagne.Why not
http://www.youtube.com/watch?v=O8WsuqAzPC4
Sometimes it's a little spot that one remembers.
This one from way back had no special effects, no gags, no celebs…..just pure effortless feel good charm.
Back then, I loved the freshness of the photography, a charming shooting style so effortlessly executed by the likes of Pamela Hansen, Bruce Weber, Peggy Sirota, Ellen Von Unwerth.
This Lanson spot was one of the first of this style, and made a glass of bubbly feel apropos if not sensible, on a Tuesday 3.30 in the afternoon on Brighton beach.
Why the hell not.
W&K. P&G
http://www.youtube.com/watch?v=5KlS45U7-O4
Being a mum is one of the hardest jobs in the world.
But also one of the best.
This made every mum feel that it was worth it.
That all those hours made something beautiful, important, inspiring, and unique happen.
A generous thought from the brand.
Chipotle. CAA. Back To The Start

We call this content. Evidently.
Not a spot.
But a beautiful piece of craft combining a lovely thought, thoughtful animation, a thoughtful song.
Nike. Frozen moment

Michael Jordan of course is idolized in the US.
This spot, by Jonathan Glazer captures how people feeling at one specific, spellbinding moment.
The moment he leaps, his hang time, his release. The ball dropping….There's a lot of hope, and hate happening in that moment.
A frozen moment that only Jordan can create.
Ridley Scott. Chanel No 5

I've always been interested in pure visual style to carry a message. The ">Benson & Hedges spots and the ">BA 'Faces' spot were wonderful examples of that.
This was one of the first though. And sent a few shockwaves through many an agency.
Because I don't think an agency was involved here. Just the talented Mr Ridley and his camera. This just reeked of No5.
Gertcha. Courage Best

I adored this whole campaign from Mr Webster and Mr Woodburn when it came out. 'Gertcha' was the first. Here's all three.
A unique style, timing, wit and soundtrack.
It captured everything about pub culture. Everytime I saw them I felt like hopping down to the Dog and Duck for a swift one.
Park Village. Peter Webb. Dubonnet. St, Raphael?
I can't find this spot anywhere.
From what I recall, it was a locked-off camera featuring a little village in the French countryside.
We watched from dawn to dusk, as a poster for Dubonnet (?) was painted on an outside wall.
As the poster took shape, French village life went on around it.
No words.
Just Frenchness oozing in every frame of this spot.
Salut!