Original founder Charles Saatchi may be in the doghouse (he's 'accepted' a police caution following a widely-publicised public row with wife Nigella Lawson) but younger brother Maurice, CEO David Kershaw (left), Bill Muirhead and Jeremy Sinclair are all doing very well out of their replacement for Saatchi & Saatchi, M&C Saatchi.
Each of them has been awarded £1.8m in shares (on top of other handsome rewards) through an incentive scheme which saw each of them invest £97,000 in the scheme three years ago.
In the interim M&C Saatchi has performed well; expanding from advertising into other disciplines and building up a worldwide network of around 20 agencies. It is in the top five UK agencies by billings although still has to establish itself in the US; the scene of the disaster that scuppered Charles and Maurice's original creation when it spent $500m on the Ted Bates agency.
The four amigos cashed in to an even larger extent recently when they sold the freehold of M&C's Golden Square, London, office (which they owned personally) for nearly £50m.
Maurice and Charles, Muirhead and Sinclair founded the original Saatchi & Saatchi way back in 1970 when the boss, Charles, was just 27. Charles, who lost interest in advertising decades ago, sold out of M&C Saatchi once it became established to concentrate on his art collecting (he owns the Saatchi Gallery in London's fashionable Chelsea).
It's amazing that the other founders (Kershaw is ten years or so younger) keep going as they contemplate their eighth decades. All four share an office on the top floor of Golden Square and it's obvious that the camaraderie is important as well as the money.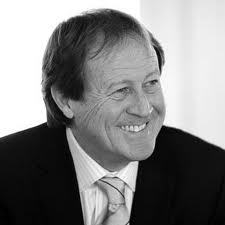 Kershaw is an account man by background, Sinclair a creative. Muirhead (left) is an account man of legend, using his Aussie charm to smooze clients to heroic effect.
My colleague Stuart Smith tells the story of when, as editor of Marketing Week, he received a phone call from the usually affable Bill.
This was one of those 'more in sorrow than anger' jobs, if it had been Charles in years gone by the air would have been blue. Bill informed Stuart that, reluctantly, M&C was going to have to sue because of some alleged infelicity in a report on the agency's affairs.
This rumbled on, on its way to court until a settlement was reached in which Marketing Week agreed (to its relief no doubt) to give the agency three double-page spreads to do with as it pleased. To the magazine's astonishment there was absolutely nothing on the ensuing white pages except a small M&C logo in the bottom right hand corner.
Which shows class.