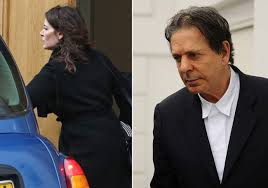 It's been quite a few days for adland and the media world's finest: BBH's Nigel Bogle gets a knighthood (good), Rupert Murdoch is divorcing Wendi Deng (depends on your point of view) with all sorts of colourful rumours flying about the supposed involvement of former British PM Tony Blair and now adland legend Charles Saatchi finds himself plastered all over the Sunday People following what seems like a violent row two weeks ago with celebrity cook wife Nigella Lawson.
Charles, who founded Saatchi & Saatchi with brother Maurice but is now better known as an art collector, has always had what we might call 'anger management' issues.
These were mostly the stuff of agency legend; retailed enthusiastically by colleagues. Lord Bell, Saatchi managing director Tim Bell as was, tells of the time Charlie threw a chair at him. He could see what was coming, ducked and the chair hit younger brother Maurice.
Usually, though, Charlie was funny and generous – although ambitious to a degree that many people found hard to fathom. He has just 'celebrated' his 70th birthday.
In the era of 24/7 online 'news' and everybody with a camera on their smartphone. He, at any rate, may be thinking fondly (and ruefully) about how simple life used to seem.
Update June 17
Campaign reports that Saatchi & Saatchi is finally leaving its old HQ in London's Charlotte Street after nearly 40 years.
Charlotte Stteet isn't what it was in adland terms with the 'new' Publicis Groupe-owned Saatchi and TBWA hardly a replacement for the old Saatchi, CDP and McCann (then the favoured agency of the big batallions) all in stone-throwing reach of each other (and there were plenty of brickbats).
PG-owned Saatchi is apparently headed for either Chancery Lane on the edge of the City (boring) or a redevelopment of Turnmill's nightclub, famed for its drive-by shootings, near to Clerkenwell Green (better).