Crikey, the numbers are flooding in today.
Nielsen has just published its tally of global adspend in 2012, showing a rise of 3.2 per cent over 2011 to reach $557bn. Europe dropped 5.3 per cent with the UK down 1.6 per cent.
Here's what it says:
2012 closed out on a positive note for the ad industry: globally, ad spend increased 3.2 per cent year-over-year to $557 billion, according to Nielsen's quarterly Global AdView Pulse report. A strong third quarter, which saw growth of 4.3 per cent, helped drive the annual uptick. Ad spend growth then receded to a more modest 2.5 per cent in the fourth quarter.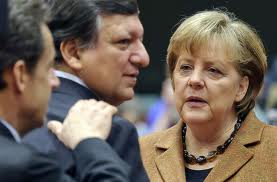 All regions except Europe increased their ad spending in 2012. Deep cuts to ad budgets continued in Europe, fuelling a 5.3 per cent decrease for the final quarter, yielding an annual decrease of 4.2 percent. Even economic powerhouse Germany reported a one per cent dip in the fourth quarter, the second consecutive quarter the country reported a decline in advertising spend.
Despite reporting a 0.8 per cent increase in the fourth quarter of 2012 compared to the same period in 2011, the UK experienced a 1.6 per cent decline for the full year.
Ad spending in North America remained on an upward trajectory at the end of the year, climbing 3.1 per cent in the fourth quarter. This helped the region report 4.6 per cent growth for the full year.
The Asian-Pacific market underperformed as well, as its annual increase in ad spend fell from 11.5 per cent in 2011 to a mere 2.8 per cent in 2012, propelled in part by China's very slight gain of 1.9 per cent for the year.
The Middle East/African market showed impressive growth of 14.6 per cent for the year as the region's economy stabilized. Egypt was part of that turnaround, registering a 20.4 per cent increase in spending.

Interesting what it says about the slowdown in Asia Pacific. Clearly the Middle East is the place to be. Well, maybe not.