Marketing analytics specialist Ebiquity has given the serried ranks of clients gathered at the Cannes Lions something to think about, claiming that better allocation of marketing spend could add $45bn annually to their bottom lines.
The three-year study analysed 2500 campaigns, regionally weighted to build a global number. The focus was on channels where the profit impact at different spend levels could be studied (search was excluded): $375bn in global ad spend, or roughly 76 per cent of the total global advertising market. Spending based on the ROI performance of the various channels would have generated the $45bn extra.
Ebiquity head of international effectiveness Mike Campbell says: "This research shows that brands could be delivering much more from their advertising investments. We're highlighting that with proper measurement and analytics, marketers can reevaluate their spend allocation to dramatically improve results."
Ebiquity CEO Michael Karg says: "As media, content, and customer experience options proliferate, brands fundamentally need to know what works well for them and what doesn't. This study is an important reminder that marketing spend still has a positive bottom line impact and should be treated as an investment, not as a cost."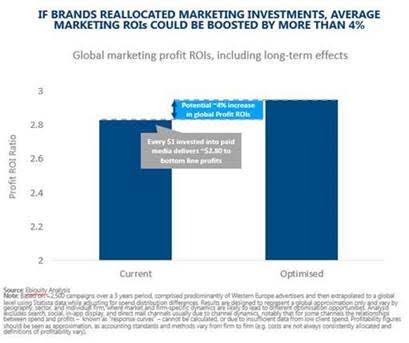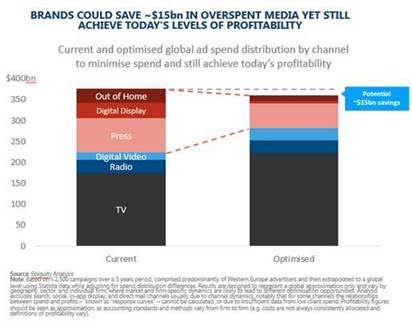 So there you are clients: stop cutting budgets, just spend them in the right place. Media agencies might demur, of course.