This week, Rathbone Street bid farewell to the CHI&Partners sign above Number 7; updating the name above the door to a new one, The&Partnership London.
CHI&Partners is 16 years old and known for its work across blue chip brands like Argos, British Gas, Toyota and TalkTalk. So why change things, you might ask?
The answer is simple. The CHI&Partners name was born in a previous era of advertising, when traditional channels dominated and attention was mainly bought rather than earned. When we started, the only shares that mattered were on the stock exchange, not on social media.
But times change, and agencies must too. Our new name isn't cosmetic; its fundamental, because the changes happening in our industry are profound. Over recent years, we've moved from an Attention Economy, where we could buy reliable and dedicated chunks of attention on the media market, to the Distraction Economy, where an explosion of information is available to people at their fingertips.
Today, advertisers, friends, family, colleagues – not to mention clients – fight increasingly hard across multiple devices, screens and formats for the finite amount of attention any of us has to give.
For consumers, this can be exhausting. It can be hugely irritating. And it can be downright troubling. We are increasingly seeing people choosing to block ads; we are hearing how social networking is causing huge rises in teenage anxiety and depression; and we are bombarded with fake news so powerful it can elect a reality TV star to leader of the free world. The recent move by Facebook to try to return to being a platform that connects people with people is a signal that we are reaching a tipping point in how advertising and information are used by marketers.
And I want my agency to be leading the way as we pass that tipping point and start on a long-term journey to a new era of marketing. An era where creativity, data and technology combine to create marketing that people enjoy, value and respond to.
To do this requires an agency and an approach built for exactly this purpose.
The fundamentals of what we do won't change. To tell compelling brand stories in ways that are engaging and relevant to multiple audiences across multiple formats. But the skills and tools we use to achieve this are new, emerging and very different to those employed by advertising agencies in the past.
As the President of the IPA I have had a great deal of exposure to the worlds of data, machine learning and virtual reality that will drive the near future in marketing communications, in both targeting and creative delivery. And I am determined that The&Partnership London will be at the vanguard of using these emerging technologies.
But I am also acutely aware of the challenges to recruit the best and brightest into our industry.
And, again, I think offering people a wider set of skills to become experts in is vital to putting marketing back on graduate shopping lists. There's no doubt to me that the best way to secure the future of our whole industry is to attract the best talent, and I want The&Partnership London to have a disproportionate share of that.
But above all, our new model is driven by serving our clients better. We can uniquely offer them a single-source solution, that can deliver across their whole customer journey, so they can be sure of greater consistency of experience, delivered by a single team engaged with a single commercial contract. Cleaner, simpler, faster and more effective. And that is what every client wants and needs.
The offer should really be quite simple, albeit rather different in our industry. We should promise BIG insightful ideas that endure through time, delivered through BOLD creativity that gets people talking, informed by the BIONIC use of the smart data analytics to connect better with the right audiences at the right time and in the right channels.
So, why aren't other agencies geared this way? Well, mainly because our industry is slower and more conservative that you might think. Holding companies are struggling with their overly complex structures and their many competing agency groups, while individual agencies often prefer to keep doing what they know they are good at, not what they suspect clients want or need. Very few are agile enough, commercial enough or brave enough to make the changes that need to be made.
But we are entering a new age and we want to lead the way, and with that comes a bit of fear. David Bowie put it perfectly when he said: "If you feel safe in the area you're working in, you're not working in the right area. Always go a little further into the water than you feel you're capable of being in. And when you don't feel that your feet are quite touching the bottom, you're just about in the right place to do something exciting."
So we have jumped in. We can't quite feel the bottom but we know we are about to do something very exciting.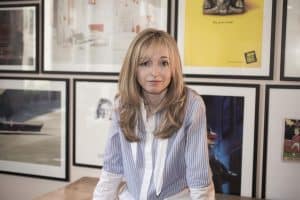 Sarah Golding is CEO and partner, The&Partnership London.