New numbers from M&A specialist Results International show the events and experiential sector is seeing a rise in interest from buyers with 35 deals in the first half of 2017, more than double the number (14) in the same period last year. It was the biggest half-year for deal volumes in the sector seen in the last three years.
Targets in this sector acquired globally in H1 included agencies MayNineteen, Wasabi Atelier Expérientiel, Playnetwork and FullSense. Overall there were 219 marcoms deals in the second quarter, the same as the previous quarter, and 438 in H1 2017.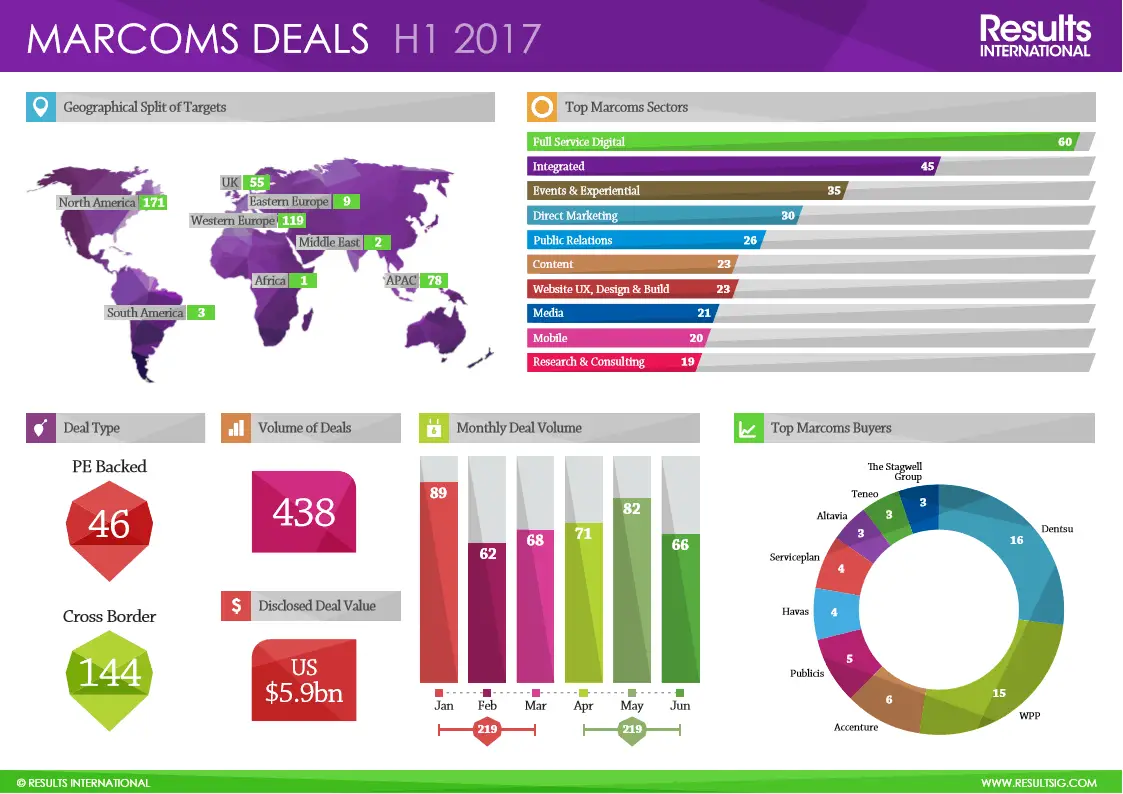 Dentsu was the most active buyer in the first half of the year with 16 transactions, of which four were in Q1, jumping to 12 in Q2. Dentsu was the most active acquirer in 2016 completing 43 deals.
Accenture was most acquisitive of the management consultancies and completed five marcoms deals in Q2 after just one in Q1. These included US-based mobile application design and development business Intrepid Pursuits and e-commerce solutions provider Media Hive.
In Q2 the largest sub-sector was once again full-service digital with 33 deals, representing 15 per cent of marcoms M&A. This was the joint-highest quarterly deal volume in this sector in the past three years, matching the 33 deals seen in Q3 2016.
It was followed by integrated (22 deals, ten per cent) with events & experiential third (17 deals, eight per cent of all activity).
Full-service digital deals included four by WPP across H1, most recently Germany-based Catbird Seat and Spain-based The Cocktail Experience, both in June. Dentsu made two: Turkey-based agency SesliHarfler in May and Switzerland's blue-infinity in January. Accenture bought Germany's SinnerShrader for $68.6m in February.
Results director Mark Cox says: "Digital agencies still rule the roost for overall deal volumes as the holding groups seek a combination of shoring up their offer against new entrants, keeping up with the pace of technology developments and developing new markets.
"Interest in events and experiential is greater than we've seen for years. Brands are increasingly trying to offer best customer experiences as they try to target younger consumers, drag people away from their screen and cut through a highly fragmented marcoms landscape.
"That's creating more demand for agencies able to offer these more in-depth customer experiences, on top of the continuing need for buyers to reinforce their digital credentials."