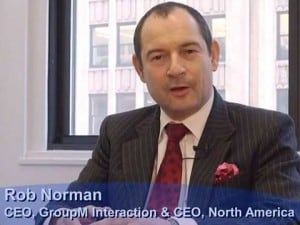 I see that WPP chief Digital officer Rob Norman (left) is saying he's in a "constant dialogue" with Google (which owns YouTube) suggesting "a range of actions they may take to give greater comfort and security" to advertisers. Advertisers are pulling ads wholesale as a few have found themselves adjacent to terrorist videos and other nastinesses.
One such action is Google reducing the price of its "premium inventory" so that ads from WPP and others don't find themselves next to videos they don't want. Where there's a problem there's also an opportunity..
But why don't Norman and his colleagues simply specify where on YouTube they want their ads to appear? I'd wager that you won't find too many IS ads on, say, the Mumsnet channel.
Ah, but that would need a media planner/buyer to work out a plan and buy accordingly. You wouldn't simply be able to "serve" zillions of ads via a super-computer. There's an old saying that a principle isn't a principle until it costs you something. Surely that applies just as much to big media agencies stressing about so-called brand safety as it does to YouTube and the like.