ITV CEO Adam Crozier is joining Costa and Premier Inn owner Whitbread as a non-exec, suggesting that his exit from ITV might be more imminent than expected.
New ITV chairman Sir Peter Bazalgette has hired headhunters Spencer Stuart to canvas eventual replacements for Crozier and CFO Ian Griffiths who have helmed the broadcaster for eight and ten years respectively.
Crozier (below), who's acknowledged to have done a good job at ITV, expanding its production capacity and building it to a market cap of £8.2bn, usually gets his timing right. He rose to prominence as boss of Saatchi & Saatchi when the brothers were defenestrated by rebellious shareholders and moved to the Football Association when it moved to swanky new headquarters in Soho Square and it seemed as though England might actually win something under Sven-Goran Eriksson. They didn't and Sven imploded but by then Crozier was running the Royal Mail with go-go chairman Alan Leighton.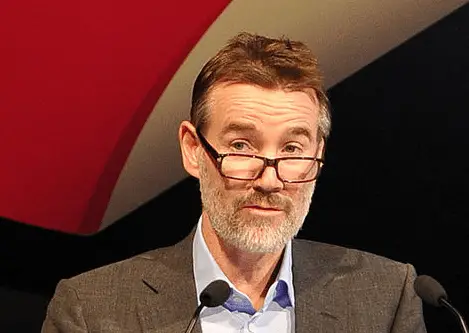 ITV was looking like a basket case in City terms when Crozier succeeded Michael Grade in 2010 but the much-criticised Grade had done some of the heavy lifting and Crozier had the assistance of another capable chairman in Archie Norman, one-time business partner of Leighton at Asda.
Crozier promised a brave new world of digital with mainstream TV advertising pushed to the sidelines. That didn't happen either; ITV now has a selection of digital channels but the main ITV channel still brings in most of the money, at a far lower cost than the expensive forays into production. TV advertising is down a bit this year post-Brexit vote but it will continue to hoover up big budget UK TV campaigns while its competition, with the exception of Channel 4, are on digital platforms.
So what qualities are required to keep ITV's audience, investors and advertisers (mostly) happy?
It's likely to be a tougher ride for the new boss than it was for Crozier once he'd steadied the ship in the aftermath of Grade's departure. Mobile is a bigger short-term rival for money than the first wave of digital competition. Nobody really knows if all that money pouring into it (it's the second biggest medium after TV in many markets and set to be the biggest in China) will actually pay off but that doesn't stop advertisers rushing in.
Audiences are watching more of ITV and everything else on their phones and other gadgets, which means that younger people are less likely to be loyal to a given programme series than their elders were (Coronation Street has made ITV more money than anything for about 50 years).
Nonetheless, ITV does have a veritable cornucopia of content and this is attractive to tech companies seeking to fertilise their own walled gardens. John Malone's Liberty, a cable company which owns the UK's Virgin Media, owns a minority stake in ITV and may, at some stage, make a bid. But cable in the US is also taking a hit from mobile so Malone doesn't look quite as threatening as he used to. Even at about £14m ITV would be an amuse-bouche for Apple, Google or the renascent Microsoft. But Google may think its YouTube can do everything ITV's programmes could and more on its own.
And Crozier? He may decide to take a leaf out of his old mentor Leighton's book and 'go plural.' If he's on the market for another big job then that might interest the directors of WPP who may be having similar thoughts to Bazalgette although they'd be wise not to engage headunters just yet.
In a fractious agency media marketplace Crozier, a one-time media director who also worked in media sales at the Daily Telegraph, certainly knows where the bodies are buried. But that, rather than the globe trotting inherent in a running a primarily US company from the UK, might just put him off.