Arthur Sadoun, boss of Publicis Communications which runs Publicis Groupe's creative agencies and PR operations, has been confirmed as outgoing boss Maurice Levy's successor as CEO of the French marcoms empire. He takes over officially in June.
Levy will take over as chairman of the supervisory board, a powerful entity as it represents, among others, the Badinter family. They're still the biggest shareholders in the quoted company. Board member Elizabeth Badinter is the daughter of Publicis founder Marcel Bleustein-Blanchet. Sadoun becomes only the third boss in the company's 90-year history. Publicis Media boss Steve King has also been elected to the main Publicis board.
Here's Maurice announcing the changes on one of his regular YouTube fireside chats.
Sadoun (below right with Levy), the classic alpha Frenchman, has done well since he inherited Publicis Communications. He's won Walmart creative in the US and, today, HSBC globally. The latter probably had more to do with the efforts of Robert Senior, the outgoing global CEO of Publicis-owned Saatchi & Saatchi who was, some say, eased out by Sadoun despite a slick PR operation vowing the contrary.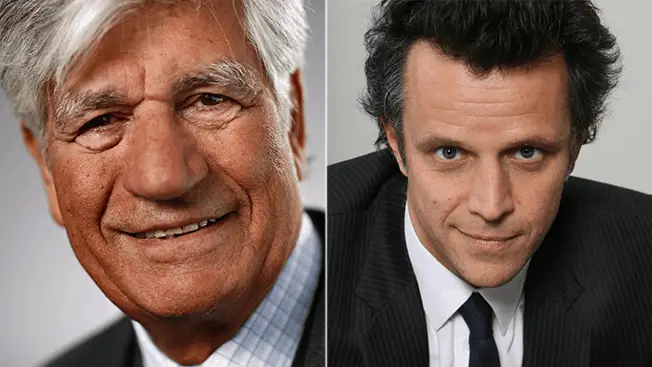 Some people think that Publicis Groupe's new 'Power of One' line-up (or POOH) which consists of Communication, Media, Healthcare and Publicis.Sapient (this housing digital consultancy Sapient it bought for $3.7bn a couple of years ago) is the precursor of a bigger re-organisation in which the whole offer becomes Publicis with the various agency brands becoming irrelevant apart from PR purposes. WPP may go the same way. But those same people were writing off Publicis four years ago when its mooted mega-merger with Omnicom collapsed.
It hasn't happened due to Sadoun's efforts, media boss King's resilience when it seemed like Publicis couldn't win or even retain any big media business for love nor money and the flow of cash from Sapient. And the urbane Levy of course.
So Levy's legacy for Sadoun looks a lot better than it looked like it would be quite recently. But Sadoun still has some big challenges, internally as well as externally.
Update
Might not be a long tenure though – or the same tenure.
There's been speculation among French financial analysts that a tie-up between Publicis and French-based giant consultancy Cap Gemini is on the cards. Also that Accenture, which recently bought UK creative agency Karmarama, might try to crash the party.
French business is even more of a club than it is in the US and UK so Publicis and Cap Gemini will know each other well. Big French companies are always after more scale but preferably France-based. Publicis and Cap Gemini would certainly be a formidable operation, building on Publicis' success with tech outfit Sapient and, maybe, outflanking the likes of WPP and Omnicom.