I see that Stan Myerson, Richard Desmond's number two and "brother-in-arms" is retiring.
The British newspaper industry had never seen anything quite like Desmond and Myerson (below, centre, with BT's Gavin Patterson and Ian Livingston) when they descended on the Daily Express in 2000. Even in the macho world of what was then Fleet Street the two upset the apple cart with their rumbustious style and zero-based approach to everything, something that helped the papers (which also included the Sunday Express and Daily star) to survive. Hacks on the titles took a less generous view, regarding them as foxes in the hen house.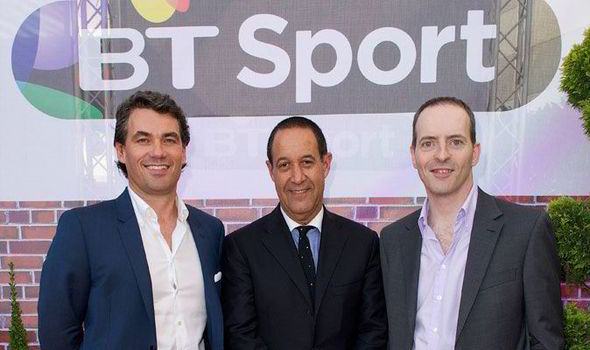 We now wait to see what Desmond does. He made another fortune from selling Channel 5 to Viacom and has looked at various options including selling the newspapers. Desmond's bugbear is the power now wielded by the big media agency groups. He was totally unfazed by standing up to Daily Mail publisher Associated and even the mighty Rupert Murdoch at News UK, publisher of the Sun which the Daily Star somehow managed to compete with despite far fewer resources.
But the ad power wielded by WPP's GroupM in particular does seem to unsettle him despite the fact that WPP boss Sir Martin Sorrell is a 'mate.' Another big media group, OMD, pulled its ads from Channel 5 after the sale. This is believed to be because it had screwed up its deal with ITV and owed the UK's biggest terrestrial broadcaster extra budget. Which is pretty demoralising if you're the media owner on the wrong end of somebody else's trading problems.
Desmond, unlike Myerson, is showing no signs of retiring yet. He was recently entertained to lunch by the FT. In most of these encounters the captain of industry in question sips a mineral water and orders modestly. Not so Desmond, he hit the unfortunate journalist with a request for a bottle of Chateau Palmer, a very reasonable £580.
All very amusing – from a safe distance.