It's a testimony to the power of advertising, I guess, that some old campaigns seem to stick around for ever – to come back to haunt other agencies who have a go at it.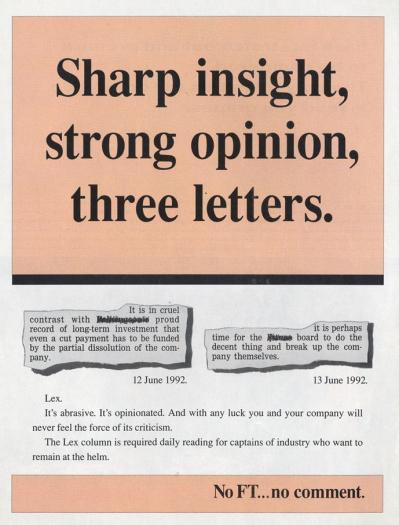 Back in 1982 Ogilvy produced 'No FT. No Comment' for the Financial Times, reminding its readers that they needed to bone up on the FT if they were to impress their pals in whichever City drinking haunt they frequented.
This was 'Big Bang' era when old-style City institutions tried to modernise, which mainly meant they were bought by Americans and disappeared. And the FT was a kind of trade paper/house journal for the City. It almost employed your correspondent but he found the prospect of starting by wading through company annual reports too daunting.
Fast forward a decade and a half or so and you have the account at DDB who produced 'We Live in Financial Times.' Fair enough but, like many puns, it doesn't actually mean much.
Now DDB in its adam&eve guise is having another crack at the FT with this campaign (below).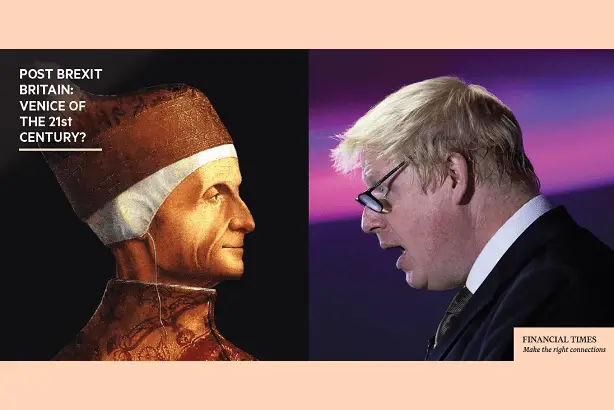 The theme being 'Make the right connections' which you can just about see in the bottom right hand corner with your reading glasses on.
Here's another.
The FT, now owned by Japan's Nikkei, lives in an online world (mainly) these days and that's all about making connections, as we know. Cue stifled yawn. And there's lots of social stuff as well as print, partly there to plug the FT's revamped website.
The campaign's certainly workmanlike, or will be if the FT finds the money to keep up a stream of such topical ads. And niftily art directed, as you'd expect from A&E which is good at posters.
But 'Make the right connections' as a campaign line? BoJo/London and the doge is quite an interesting connection, the rise in global commodity prices because of changing Chinese eating habits likewise. Make the right connections should surely have been an instruction in the brief, not the end result.
Dressing the brief up in smart clothes seem to be the norm in British advertising at the moment. Which is maybe one reason why we still recall No FT. No Comment.
MAA creative scale: 5.