Marc Bolland (below) will have been at Marks & Spencer for six years when he exits later this year and the question doing the rounds is: "did he fall or was he pushed?" With more bad news on the non-food business at M&S, it feels like a slow death by a thousand cuts for clothing sales.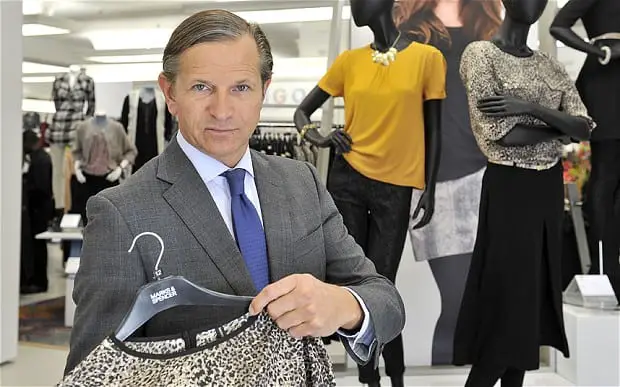 At MAA we have consistently questioned the wisdom of the M&S broadcast advertising which has portrayed more of a 'wannabe' image of the brand, at odds with the reality. I would place this continuing error at the top of the company together with the cock-up of their slow and problematic online presence.
Oddly enough Morrison's, where Mr Bolland was CEO prior to M&S, were also very slow and late to enter the home delivery, online grocery world. Years behind Tesco et al, also in the pooh through lack of clear positioning in the grocery market.
It seems to me there are several lessons to be learned from M&S and I'm sure we'll see the case history enter business school study in the future. I accept the management of a business this big with endless logistical challenges is not an easy task but competitors seem to manage well. It is what they do for a living. However I would argue this is necessary but not sufficient.
M&S is a business which signals that brand management at the top of the business is not what it should be. We use a local M&S for food shopping from time to time and the route from the underground car park to the food area is via the clothing section. I dropped in between Christmas and New Year when the sales are on. There was not a single customer in the clothing section whereas the food section was briskly busy.
Historically its Christmas TV advertising has been very glamorous and beautifully produced but just not what M&S is about as an experience. The 'Magic and Sparkle' line felt like a mis guided piece of self-perception, not the way customers would describe the store and/or what it delivers.
Further, I suspect the online channel has not done the brand many favours. I receive the email promotions on a very regular basis and they are always about price cuts. My recollection is a constant stream of sales across the year. I've felt the company have been bleeding profusely and very publicly via their online strategy of dumping stock at big discounts. It says to me they can't sell their merchandise in the stores.
I have also asked my family not to buy me any clothes from M&S because in the past I've felt the quality and fit has been a false economy over alternative, and probably more expensive, brands. I have overheard family members making similar comments about their products.
What I really don't understand is the 'positioning' of the food offering versus the clothing offering.
With food, M&S and Waitrose are broadly regarded as similar – good quality, a bit upmarket and above the battle of price cuts. Clothing, though, does not enjoy a similar reputation. It is a bit like two different retailers trading under one roof.
I led a team that pitched for the M&S business when it went to RKCR/Y&R about 15 years ago. At the time our advice was to focus on rebuilding brand values via detailed product stories.
Obviously this was ignored and it has taken all of this time for the erosion of the historically strong brand to become public and widely accepted as a reality. BBC TV news interviewed shoppers on the street following Mr Bolland's announcement and their comments reinforced the general perception of M&S being yesterday's brand.
Time for some fresh, intelligent and relevant marketing.