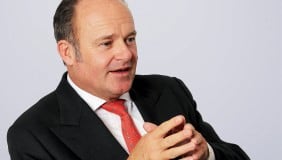 Chime Communications has found a real heavyweight to be its next chairman; Paul Walsh (left), former CEO of drinks giant Diageo. Walsh, who stepped down from Diageo after 15 years in the top job, succeeds Lord Davies. Walsh has also been president of Pillsbury.
Chime recently went private in a £374m deal engineered by Providence Equity and WPP. The company includes a number of sports marketing businesses, headed by Lord Coe, and agency VCCP. Originally a spin-off from Lowe Howard-Spink and Bell, it changed from a PR business, headed by Lord Bell (Lords all over the place) and Piers Pottinger when the two bought out their Bell Pottinger PR agency.
Chime CEO Chris Satterthwaite says: "We are delighted that Paul will be joining Chime. He has unrivalled experience in growing businesses on an international scale and we will benefit greatly from this and his understanding of how sport, entertainment and communications can transform brands."
Paul Walsh says: "I have a long standing relationship with Chime and have experienced first-hand the quality of work consistently delivered throughout the group. I am particularly pleased to be joining at such an exciting time and believe Chime has a unique opportunity to accelerate its growth and develop its market leading position across multiple geographies."
Chime, after a rocky start when it bought agency HHCL, was a big success as a quoted company. Wlash, who was an unsuccessful candidate for the job of CBI chairman, has a problem on his plate though. Coe, who remains executive chairman of the sports businesses he founded and later sold to Chime, is also the new president of scandal-hit world athletic body the IAAF. He has been criticised for, among other things, his business links.