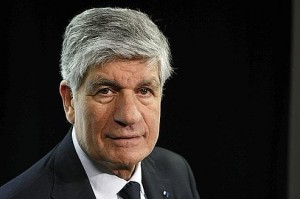 Some people thought Publicis Groupe boss Maurice Levy was barmy when he bought US and India-based tech consultancy Sapient for $3.7bn last year.
But Maurice seems determined to have the last laugh, announcing that PG's revenue surged 32 per cent to $2.24bn in the first quarter of this year against 2014. Organic growth for the group, which also owns Saatchi & Saatchi and Starcom, rose three per cent.
16 per cent of this apparently came from Sapient, which also has digital agency Sapient Nitro.
PG had a rocky old 2014 following the aborted $35bn merger with Omnicom and so the Sapient buy was supposed to be a transformative move, a move to the sunlit uplands of a digital world.
We don't really know if that's the case yet until the small print of the PG results becomes clear. Levy, however, is calling a win. He says: "With the acquisition of Sapient, Publicis Groupe has become the only global group present all along the value chain – from consulting to marketing, from communications to commerce – brought to life through outstanding expertise in the most high-performing technologies."
Levy started at Publicis decades ago as its IT manager. Since then he's been running a race with WPP's Sir Martin Sorrell to be the 'most digital' of all the holding companies. Now, it seems, he's beaten Sorrell to the target of 50 per cent of revenues coming from digital.