Lots of people have been bemoaning the lack of sparky election ads, harking back to the moth-encrusted days of Saatchi's 'Labour Isn't Working' for Margaret Thatcher and the Tories.
Up and coming London agency Lucky Generals produced a couple of lively party politicals for the Labour Oarty recently but hasn't, until now, been involved in this campaign for anyone.
But here's it's election debut – for Irish bookie Paddy Power, the disruption specialists. Paddy is offering odds on various coalition permutations and Lucky Generals has started its campaign with a pretty unlikely one, Messrs Cameron, Farage and Clegg.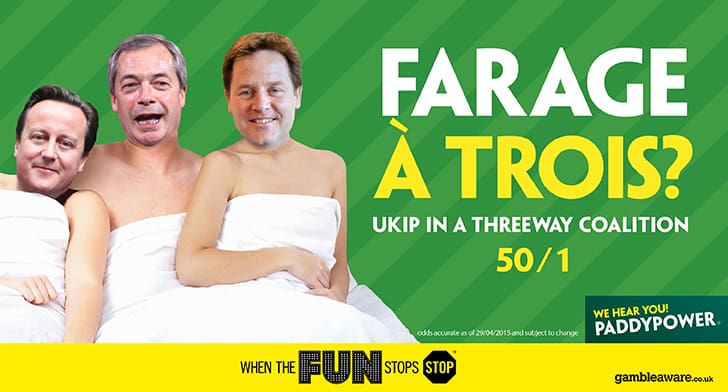 Good knockabout stuff, which is what General Election campaigns should be about – although this one certainly hasn't been.
I note that Labour's Ed Miliband doesn't feature yet (although he surely will later in the campaign). Is it too late for him to knock on Lucky Generals' door?
MAA creative scale: 8. May go higher.