The odd nugget has emerged from Advertising Week Europe (did anyone learn anything of note from a be-purpled Robin Wight talking to Katie Price about branding?), in this case from the ever-reliable Maurice Levy.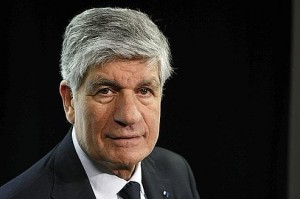 The 73-year old Publicis Groupe boss (left) confirmed that he will retire in May 2017 (although he's changed his mind before) and that he will, likely, be succeeded by "a team."
"We are working to build two teams; a supervisory board and director management board with five members. So the solution will not be one person. It will be a team. I am very confident this is going to happen in due course," he said.
This is eerily reminiscent of stories emerging over the weekend that his great rival, Sir Martin Sorrell of WPP, will likely be succeeded by a duo, whenever he decides to go. Sorrell is a still-sprightly 70.
Now it may be that these two mega-marcoms groups are now so big and diverse – with presences in all sorts of businesses that have little to do with with traditional advertising – that splitting responsibilities is the only practical course. Although, if Levy and Sorrell can do it mostly on their own, why shouldn't someone else be able to? Quite a few people run equally big enterprises successfully as the boss, provided they're armed with a capable and supportive CFO.
A likelier explanation for these messy succession plans is that both men are obsessed with their 'legacies' and don't want some Herbert coming in and dismembering the company. A team, largely consisting of executives who've risen through the ranks thanks to the patronage of Levy or Sorrell, is less likely to do anything so dramatic.
Shareholders might take a different view of course. There aren't many instances of two CEOs working out. There are companies where a CEO is brought in nominally above the real owners of the company. Google might be seen as an example in the Eric Schmidt era.
In the case of both companies, though, such a fudge is likely to be disastrous. We're always being told that marketing communications is changing more rapidly than ever thanks to technology and the like. In which case it's surely best if there's one hand on the tiller.