Well Ad Age thinks it is, pointing out that 8500 of Sapient's 13000 employees work in India, home of cheap labour (for the most part) and lots of technology skills (office, left).
But, as the mag also acknowledges, much of this work is high volume, low margin – which still makes the $3.7bn Publicis paid for Sapient (and Sapient Nitro) look decidedly toppy.
Publicis Boss Maurice Levy (whose sanity we questioned recently, rather unkindly) has said that he wants the ad agency group to become an 'internet company' and he seems determined now to make that happen. Although you do wonder why, if this was the plan, he was so keen to effect a $35bn merger with Omnicom.
There is also speculation that Sapient – which is primarily a consulting and technology company with an under-performing ad division in Sapient Nitro – will become the kingpin of Publicis' digital operations; currently bossed by either Razorfish or media operator VivaKi (take your choice). Sapient is the biggest of Publicis' many digital acquisitions but Publicis has recently been busily grouping these under Razorfish. Surely it's not going to embark on another re-organisation?
All these things are costly, not least because they usually result in people departures which have to be paid for. And when that happens others start looking elsewhere too. A senior exec at one of Omnicom's agencies in London told me recently that the best thing to have happened all year was the failure of the Omnicom/Punblicis merger. He was dreading Publicis financial controls being imposed in place of Omnicom's rather more forgiving regime.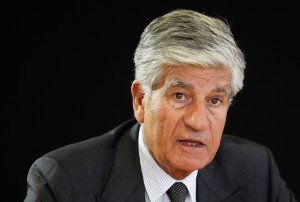 The task for Levy (left), his new heir apparent Arthur Sadoun and the company as a whole is to get earnings improving again as it recovers from the Omnicom business and the distractions of reorganising all this digital stuff.
Sapient – if the deal closes. of course – will bring lots of new client contacts. But can Publicis turn them into money?