Roka in London's Charlotte Street on an unseasonably warm autumn day. Johnny Hornby, one of London adland's best-known characters is talking about his agency CHI&Partners and his new global operation The&Partnership.
Actually the affable Hornby isn't too pleased at the way MAA greeted The&Partnership – describing it as 'a mystery wrapped in an enigma' – but that's the way with names that don't seem to mean very much.

In the end we agree it's a bit like Carphone Warehouse, CHI's foundation client. Charles Dunstone's business (now merged with electrical retailer Dixons) doesn't sell carphones any more, certainly not from warehouses, but everybody knows what it is.
Nomenclature aside, The&Partnership is Hornby's opportunity to make an impact on the world stage – which, he freely, admits wouldn't be possible without the support of CHI's 49.9 per cent shareholder WPP.
WPP boss Sir Martin Sorrell made one of his celebrated last-minute swoops to buy a minority in CHI back in 2007 when it looked as though CHI was going to do a similar deal with Havas. At the time minority shareholdings were not WPP's style although their efficacy had been proven with Publicis Groupe's similar stake in BBH.
But Hornby got what he wanted: money for existing shareholders, control and the freedom to do things that other WPP agencies were not able to do. Such as start a media operation, now functioning as m/Six in London and New York.
CHI had previously dabbled in media with its 'Naked Inside' operation, a collaboration with media strategy company Naked. But the WPP connection gave him access to WPP outfit GroupM's fearsome buying power – although he had to use all his considerable charm to win over Sorrell. No other WPP creative agencies have this resource.
But Hornby is a fan of full service, harking back to the days when the big creative agencies had their own media departments – and were much more profitable because of it.
"With Naked we had the communications planning in-house but then we had to hand things over to someone else to do the buying," says Hornby. "Now, thanks to the GroupM deal, we've over £200m of media in the UK and six or seven million in New York and it's an important part of the business.
"For lots of our clients – RBS in the UK, Best Buy in the US, Telus (a mobile company) in Canada, it's important to have creative people and media planners working together."
There are, no doubt, many executives at the likes of JWT, Ogilvy, Grey and Y&R who feel the same, but Hornby (ultimately thanks to that 50.1 per cent share) is the one to have done it.
On this point Hornby is careful to pay tribute to CHI co-founders planner Simon Clemmow and creative director Charles Inge, who could have trousered more money if the agency had sold 100 per cent.
But what does The&Partnership have to offer WPP and, indeed, the world? Essentially it adds the residue of the old Bates network to CHI and CHI's various companies in the UK which, as well as m/Six, include integrated agency Rapier (bought out in somewhat controversial circumstances when it hit the buffers), PR firm Halpern and The Social Practice. As well as New York, CHI also has three agencies in Canada, initially to handle Telus.
Bates was one of the many agencies bought by the Saatchi brothers during their dizzy acquisition spree, arguably the one – at $500m – that brought them down. Bates in the US is no more but it did have a substantial network in Asia-Pacific which eventually came WPP's way. The Asian bit – officially Bates CHI&Partners – is now helmed by Ogilvy veteran David Mayo. It's now the major part of The&Partnership's 16 country network with clients including GSK, Unilever and Samsung.
And Hornby doesn't see it stopping there. "Asia is now back in profit but there are lots of things we still want to do, places where we're not. We're not in South America, for instance, so we need to find a reason (for which read 'client') to be there."
So what sort of beast is due to be rolled around the world?
"Just being an ad agency isn't a good place to be," says Hornby, ducking a question about CHI's creative profile or lack of it. "It's absolutely essential to be able to provide cross-disciplinary campaigns that meet all a client's needs. Creativity can come from anywhere these days. Because of this being a client is pretty scary too. There are so many new things – social media, video etc – that it's almost impossible to keep on top of them. There's an important role for us in that."
All of which requires top drawer account handling skills, which the well-connected Hornby has in spades.
Back to Roka and who should come wandering by but Robert Senior, newly-ennobled as global CEO of rival Saatchi & Saatchi, taking over from Kevin Roberts. Hornby and Senior worked together at TBWA when that agency in London had more senior managers than accounts. Hornby had joined to sort the Nissan account, the agency's biggest, which he did successfully.
Senior cheerfully offered some observations on The&Partnership's name; Hornby wondered out loud about the future under Senior of Roberts' 'Lovemarks,' his creative mantra at Saatchi. The two are as close as they come to account barons in the modern agency landscape, the Tim Bells and Frank Lowes of yesteryear.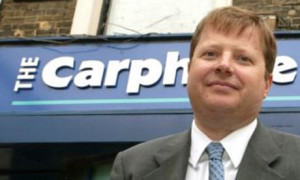 On this score Hornby and Charles Dunstone's Carphone Warehouse (left) are inseparable. But the merged Dixons/Carphone Warehouse has two formidable agencies on the scene; CHI and AMV/BBDO, which won Dixons from long-serving M&C Saatch just a few months ago. In due course it will surely only have one.
Hornby concedes that the media part of the account (his m/Six has Carphone, Walker Media, until recently majority-owned by M&C, has Dixons) will be merged although he won't be drawn on the creative business. If there is a contest, though, CHI will put up a strong fight. The agency recently retained £50m Argos in a top-flight pitch, with Hornby taking a leading role.
One of Hornby's contemporaries says this is both a strength and weakness for the agency; observing that with Hornby "there's charisma in the room," implying that, without him, there isn't.
This source goes on to say that Hornby, as he's entitled, also enjoys the finer things in life, including point-to-point riding and sailing at his West Sussex retreat. Apparently back in his TBWA days Hornby had to point out that he wouldn't be making it in for the 8AM meetings of a Monday, having things to wrap up in the country. Squire Hornby prevailed, as he kept the Nissan business.
Balancing such priorities may also get in the way of the path some map out for Hornby – namely eventually succeeding Martin Sorrell as boss of WPP. There's no doubt that Hornby and SMS get on well (which can't be said of all WPP execs and their boss) and that running The&Partnership could be seen as a dry run for a bigger role.
"That's flattering but inaccurate," says Hornby. "the only way Martin will leave the company is if he has to be carried out. It's his company, he's crafted it the way he wants it to be. Anyway I doubt that any one person could come in and run and run it his way. My ambitions are satisfied by The&Partnership. 1400 people in 16 countries is a big responsibility."
Which isn't exactly a 'No.'