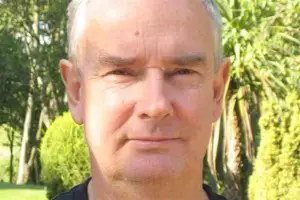 Patrick Collister, one of the UK's best-known creative directors and a member of Creative Social, is now head of design for Google Northern and Central Europe. Here he explains why digital has created far more opportunities for creatives who want to help make a better world.

You Lucky B***ers
For God's sake, don't tell my mother I work in advertising. She thinks I play the piano in a brothel.
It's an old joke but descriptive of how adland was regarded not so long ago.
When I started as a copy trainee way back in the late 70's, a number of my snooty pals thought I'd sold out.
Even my brother. And he worked for Plessey, designing gadgets to give our chaps advantages in the theatre of war.
Pah!
The educated middle classes wanted to use money, not make it. So they became academics, teachers and civil servants.
Advertising was despised for being of no social benefit whatsoever. It interrupted the best TV programmes and was, for the most part, witless. It followed that the people who created it were shallow all the way through.
Today, though, I would argue that if you're in advertising, you've never been so important. You have much to contribute.
Hell, you might even be the ones to save us all. One, you can change behaviours.
Two, creativity is crucial.
Three, you can reach the world from a desk in Shoreditch, Brooklyn or Mumbai.
Frankly, there's never been a more exciting time to be in this business. The pace of change is amazing. It's allowing new opportunities for imaginative, inventive people to pop up across the media landscape like meerkats in 'Wildlife on One'.
The cause of all this? Digital.
And the web.
And it's still in its infancy.
Malcolm Gladwell, author of 'The Tipping Point' et al was asked why he has no Facebook page. He replied that he didn't tweet, he didn't post, he did nothing online because the digital revolution hasn't started yet. When it does, he will consider his options.
When I arrived at Google in April 2013, I thought I understood how advertising was changing. After all, I had started what I believe was the first digital creative unit of any ad agency in the UK. And, for seven years, I had published Directory magazine, a showcase for innovative ideas in communications.
I had reported on great new ideas in the digital space from dynamic new agencies such as Akestam Holst and Lowe Brindfors in Sweden, Shackleton in Spain, Buzzman in France, Duval Guillaume in Belgium and, the daddy of digital, Crispin Porter + Bogusky in the USA. Ha! It turns out I knew nothing.
To get myself bedded down at Google NACE (Northern & Central Europe) I asked my team to help me work on a Re:Brief.
25 years ago, I'd written a TV commercial, which, while it never won awards had gained a certain sort of playground traction.
In the commercial, two kids come in from playing football. One offers the other a drink.
"Milk, yuck" says his mate.
"It's what Ian Rush drinks," says our little freckled hero with a Liverpudlian accent. "And he says, if I don't drink enough milk when I grow up, I'll only be good enough to play for Accrington Stanley." "Accrington Stanley? Who are they?"
"Exactly."
The important thing to take from the commercial is it's positioning milk as a drink for growing kids.

So, how would we do that today?
Well, first thing: we'd bring back Ian Rush.
And we'd bring back the Milk Cup, last played in 1993 before milk was privatised in the UK and the National Dairy Council wound up.
In our version, it's a match between men and boys. Between Accrington Stanley and a team of boys selected by Ian Rush.
The way it would work is ads on milk cartons and banner ads online would invite parents to make videos of their kids showing off their football skills and upload them to the Milkcup YouTube channel.
Not only can kids now compare and contrast their own skills with others of their own age, but Ian Rush can start selecting young players to come to his special 'boot camps'.
These might be three sessions involving, say, sixty hopefuls at each. Here, the 180 lads would get coaching from Jamie Carragher and Stevie Gerrard. More videos of the coaching sessions would be uploaded to the YouTube 'hub'.
By this stage, there could be hundreds of videos.
And, who knows, maybe one of them might attract millions of views. Why not? The video of 'A new Messi, Haitem, 8 years old'1 has had two million views in a year.

Young Hassan Ayari has accumulated many millions of views. One video alone has over six million views.

So, Ian Rush selects his squad.
Now we need a 'hero' video, a piece of advertising which will get viewers to watch the match live on YouTube.
Maybe we organise a flashmob at a Premier League game. Our squad of young stars invades the pitch at half time. The stewards are simply unable to catch them as they kick a ball between them. It's funny, it's amazing, is it real?
Who knows but it drives traffic to the match.
Now, if Samsung can get nearly two million people to watch the live unveiling of their Galaxy Gear smart-watch, we must be able to get a similar number to watch our team of pint-sized champs whup Accers? Surely?
Here's the thing, back in 1989 when I wrote the original TV commercial, I changed one life. The kid in the ad, as a result of the experience, decided to become an actor. Carl Rice, for that is his name, pops up regularly on the telly. I think he's been in Casualty, a well known UK medical drama, very recently.
In 2014, I can change the lives of dozens, maybe even hundreds of kids. I can get them out playing football.
And, at a time when parents are increasingly worried about obesity, milk can become synonymous with a healthier alternative to sugary drinks.
As schools distance themselves more and more from sport, milk (or a milk brand) can become a valuable and valued partner to parents who want a more active life for their little 'uns.
In 1989, I created 40 seconds of content.
In 2014, we may end up with 4 hours of video. Or more. Today I am in the business of creating advertising. But not advertisements.
People don't choose to watch ads about products and their attributes. But they may choose to watch video about people and brands whose interests and values are in synch with their own.
At this stage of the creative process I was feeling rather pleased with myself. We'd re-imagined the milk ad in a way that seemed to make sense both of Google's platforms and of the way that social media works. Then one of the planners came to me.
"I've been looking at the numbers," she said. And I groaned. Numbers have never really done it for me. Not in the past, anyway.
"Look, the numbers show that while kids are still into football, they aren't as crazy about it as they used to be. What they are interested in these days are individual sports like swimming and cycling."
Now that is a real insight.
Of course kids are more into cycling and swimming. First Beijing and then London with all the medals and all the knighthoods.
"But, get this," she said. "The trending sport in the UK right now is…." "What?"
"Dance."
Wow! And there it is. The numbers show the interest. It's the Billy Elliott effect. It's Diversity winning 'Britain's Got talent', it's the rather successful Step Up trilogy of films, it's dance competitions in community centres
Every weekend, troupes of kids gyrating, spinning, acrobatically bouncing around in choreographed togetherness.

What this meant, of course, was we had to go back to the drawing board and reimagine the whole campaign again. But spot the difference. This time, with girls. In the new iteration, groups of boys and girls would be invited to create their own dance routines. The winning group would get to perform at The Royal Variety Show. With Beyonce.
(Hey, there has to be an incentive!)
So, going back to the beginning, why are you so lucky?
Well, people can edit advertising out of their lives entirely now.
That means, you have to create ideas they actually want to engage with. In other words, creativity has never been so important.
But it's not just that ideas need to be more thoughtful, more human and more remarkable than ever before, but they need to be based on shared values.
If people are going to buy a company's products today, they want to buy into the company first.
In a world of massive over-supply, they can afford to be picky.
Brands, then, need to sell themselves to their customers not on what they do or even how they do it – but why.
Steve Jobs believed that people bought into Apple because Apple understood that they wanted not the tools to do a better job but the tools to create a better world.
For me, for any brand to survive, let alone thrive, it needs to mean something to the people who buy it.
For creative people, that means creating ideas rooted in human truths rather than ideas rooted in product facts.
Think about whisky for a moment.
Many whiskies talk about how they are made. The earthy, smoky flavour that results from Scottish rainwater seeped through heather and peat. Then there's Johnnie Walker, who talk about 'Keep Walking.'

About moving forwards. Having a goal. Picking yourself up and starting all over again.
You can't have a conversation about peat. Well, not a very long one.
But you can have a conversation about what success and reward means to you.
And that's why you're lucky. You are being invited to have ideas about people. About what they really do and think and say, which brings you closer to being artists than advertising folk have been before.
There is also an added incentive. If you are able to come up with these new, engaging ideas then you are also able to change behaviours.
Changing behaviours.
Urgh. It's become a new advertising cliché, which is a pity because the future of our planet depends on people changing how they do things. For instance, how can you persuade people to be less wasteful with energy?
How do you get people to use less water? How do you get people to shower less often? To do the laundry with just a litre of water?
How can we curb the greed that is leading to the deforestation of the Amazon basin? To the disappearance of cod from the North Atlantic? How can we get people in the first world to see that they have a responsibility for what goes on in the third?
Sir Ken Robinson, educationalist, author and all-round top bloke, has argued with startling coherence that the population of the world is currently 7 billion, set to reach 9 billion.
If everyone everywhere was to enjoy the same standard of living that we do in London, New York, Paris and Berlin, the globe can support a population of 1.5 billion.
It is a problem of unimaginable proportions.
Sir Ken argues that what we need now are ideas. He is concerned that we start to teach our children in new ways to free up their imaginations so that they can find a way out of the mess their forebears have made.

I argue that there are already people out there who can make a difference.
You.
Creative people – young or old.
With ideas, which, through new digital platforms, can reach the world.
Some of the ideas I've seen in the last year or two which give me hope include:
Kony 2012. Jason Russell made a film about the leader of the Lord's Resistance Army. It got 100 million views on YouTube. Many NGOs attacked the film as simplistic but the film led directly to President Obama enacting legislation aimed at bringing Kony to justice. 100 combat troops were sent by the US to the Central African Republic to offer help.
iFold. A young creative team working in Ogilvy Mumbai noted that people were sending letters in envelopes the same size as the sheet of paper inside.
They thought, imagine how much paper we'd all save if we folded our letters in half? Or even in half again?
They made a film, got Vodafone to support it, posted it onto the internet and started saving 800 trees a month.
Pepsi Bottle Light. In the Philippines, creative director David Guerrero saw that an ingenious problem-solver in the slums of Manila was bringing light to the shanty towns by putting a mix of bleach and water into Pepsi bottles.
David got his client, Pepsi, to start bringing light to more parts of the country. After Typhoon Haiyan hit, the Pepsi lights brought more than light to devastated areas but hope.

And so on and so on.
New kinds of idea and none of them what you might call an advertisement.
Like the milk work I developed with my team. Advertising, yes, but carefully constructed little stories about the product, each neatly packed into a specific time-length, 20, 30, 40, 60 seconds, no.
Content.
TV advertising isn't dead. There will always be a role for the tent-pole commercial. Especially when brands have news they want to share. It's
just that it can't really change behaviours on its own. Together with digital and experiential media, however, it can help get people to change what they do and how they do it. And maybe, just maybe, to start looking out for each other as well as looking out for this fragile world of ours.
The list of great behaviour-changing ideas is getting longer by the year. Cannes has been giving a Grand Prix for good since 2006 (I think). And two years ago, through the Cannes Chimaera, the festival partnered with the Bill and Melinda Gates Foundation to give cash prizes to help pay for the development of great ideas.
D&AD has a similar scheme, the White Pencil initiative, to encourage creative people to generate real-world ideas for worthy causes.
Thanks to the digital revolution, advertising people have become relevant. Not just to marketers with brands to sell but to people.
You are creating apps that help kids with diabetes regulate their medicine. You are creating apps that automatically shut down your smartphones so you can't text and drive.
You are creating ideas to help prevent online bullying.
You are using Minecraft as a place to talk to kids in real-time about how daft it is to start smoking.
You are creating YouTube channels to try to prevent the destruction of the environment.
You are creating maps of 'Where the bankers live' to hold to account the invisible folk who have brought the world to the brink.
You are bringing people together in communities. You are starting movements.
And you have the future on your side.
In two years time you will be using tools and platforms we can't imagine today.
You are the change-makers. The what-iffers, the experimentalists. The creative geeks. You are making a difference.
And that is why you are lucky b***ards.
This is a chapter from Hacker Maker Teacher Thief: Advertising's Next Generation, the latest book from global creative directors collective Creative Social. Available through online retailer Lulu with an Amazon release to follow in October. The book, which marks Creative Social's tenth anniversary, analyses the challenges faced by the world of advertising and marketing with contributions from 35 leading industry figures.