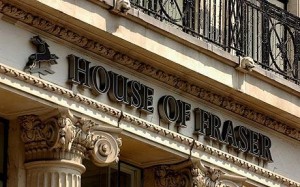 UK retailer House of Fraser, bought recently by Chinese company Sanpower, has given its £3m-plus ad account to London creative agency !8 Feet & Rising.
Although 18 Feet has earned a considerable reputation for its creative work, most notably on its biggest account Nationwide, it has had a frustrating time recently, missing out in pitches for accounts including Dixons and Skoda (although it did win Skoda's digital account).
Founder and CEO Jonathan Trimble, formerly at DDB, says: "House of Fraser is a British High Street institution with a fast-changing digital and international future. It's an exciting time for the business and therefore an exciting time to have them part of the agency."
Sanpower, which owns 89 per cent of house of Fraser, has said it intends to expand HoF internationally. HoF is a mid-market UK department store that once used to own Harrods. Sanpower is likely to try to move it up-market, following the path set by other UK retailers including Harvey Nichols.