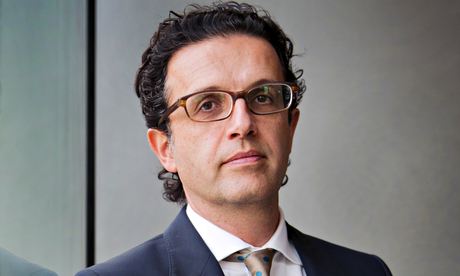 Channel 4 CEO David Abraham (left), back in the day a founder of the St Luke's agency, came out fighting at the Edinburgh Festival the other day; accusing US TV companies of trying to buy UK TV assets to provide new outlets for their international shows.
Top of Abraham's 'bogeyman' list is Liberty Media's John Malone who already owns Virgin Media and now a £481m stake in £8.5bn ITV. Sumner Redstone's Viacom is also completing a £350m deal to buy Channel 5 from Richard Desmond.
"Our free-to-air channels have become the must-have accessories, the tiny dogs of 2014, amongst US media companies eager to stay ahead of each other by internationalising their revenues, priming their distribution pipes and shielding their tax exposure," Abraham said. "Reformatting ideas is more efficient than the messy business of finding new ones."
Abraham has problems of his own, of course. Channel 4's ad revenue is flat at about £825m and its share of audience is under pressure following its decision not to renew the Big Brother franchise, which went to C5. Younger viewers, the key plank in C4's attraction to advertisers, are watching TV online, on mobiles or not at all.
C4, which is a not-for-profit organisation although it depends on ads for revenue, can't be sold without UK government approval. That may be a possibility though if the Conservatives win a clear majority at the next General Election, to be held in May 2015.
But ITV is well and truly on the block. Liberty can't make a bid for another few months but it won't be the only contender. The likes of Apple, Google, even Facebook have much more money at their disposal than Liberty or any other conventional broadcaster.
It would be interesting to hear from ITV CEO Adam Crozier what his view on all this is. Is his remit solely to get the best deal for his shareholders or does he think ITV should remain independent as a kind of 'national champion' UK free-to-air broadcaster?