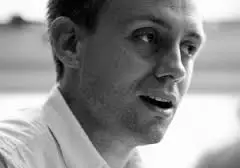 Leagas Delaney's managing director James Hayhurst cut his teeth as a graduate trainee at BMP/DDB in 2000 where he spent 11 years honing his creative mind, and eye, working on award-winning campaigns for brands including Volkswagen, Channel 4 and Teacher Recruitment. He joined Leagas Delaney in 2012 to continue to do more of the same. He works across the agency's portfolio of clients including Patek Phillipe, Glenfiddich and their most recent global wins Penfold's wines and Telecom Italia.

Definitely my hardest task of the week this one. Trying to choose the greatest ads and also where I'd ideally like my desert island to be. Can I ask that it has patchy mobile reception so I can really enjoy my picks in a bit of peace and quiet? Here goes…
1. Dulux – May the gloss in Ross be a good gloss.

Where to start? How about my childhood and this corker from Dulux and the skirting boards of Fife. Takes me back to Sunday tea and being a young lad in the valleys. Lovely stuff.
2. Tango – Sebastian

This is how advertising should be – you're an exchange student Sebastian… I'd sell my gran to have made this one.
3. The Economist – Jordan


A campaign that never seemed to tire. From 2006 and as fresh as the early management trainee work.
4. VW – Night Drive
An ad I actually did make without any gran trading involved. Hollywood treatment in LA. Perfect storm of great team, brave client and the late Richard Burton reading 'Under Milk Wood' as voiceover.
5. Adidas – Just to the Signpost


So, so insightful. Was on my bedroom wall as a 17-year-old wannabe Mo Farah (well Steve Cram back then), and now on the wall of my office as a 36-year-old wannabe Tim Delaney.
6. Nike +
https://www.youtube.com/watch?v=XSml3P8W1o0
And the more modern day version. An amazing fusion of creativity, technology and utility. Hopefully the desert island is big enough to get a decent Sunday run in.
7. Reebok – Terry Tate
Genius from the US. I'm sure this is how Tim used to run the office back in the day.
8. Honda – Cog

No doubt this has been a pick of hundreds before me and for good reason. The stuff of Champions League Wednesday evenings in 2003. I can actually remember the pub falling silent when this came on.
9. Cheetos

Another one for the US – from Goody Silverstein I believe. Incredibly juvenile; the perfect tone of voice to a) appeal to me and b) sell truckloads of cheesy puff snacks. The others in the series are well worth a watch too.
10. John Webster – Smash

And finally I was incredibly fortunate to work with John Webster and made his last ever ad with him for Hovis*. Could have chosen so many but decided to end with this classic.
* hotly debated by Matt Ross (BBH LA) who reckons his 30-second Scott's Pathclear TVC was his final work.