What to make of the verdicts in the great phone hacking trial?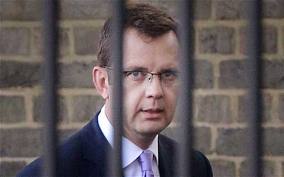 Former News of the World editor, Downing Street head of communications and lover of Rebekah Brooks Andy Coulson (left) has been found guilty of conspiring to hack phones after a seven-month trial at London's Old Bailey.
Former News of the World and Sun editor, and News International CEO Brooks, has been acquitted on all charges, including phone hacking and suborning police and other government employees, despite admitting she knew the latter went on in an unguarded moment some years ago in front of a Parliamentary Committee.
Her husband, former racehorse trainer Charlie Brooks, was acquitted of trying to conceal evidence (Charlie would know that the odds came in, in this instance).
Former News of the World managing editor Stuart Kuttner, who for decades has known where the bodies are buried at the NoW, was acquitted on all charges too; partly, it seems, because he could no longer remember whose the bodies were and where they were buried.
The jury is still deliberating on two further counts involving Coulson and former NoW royal editor Clive Goodman, of conspiracy to commit misconduct in public office in relation to three royal phone directories they allegedly bought. Goodman has already been to jail for phone hacking, underpaid Royal servants will sell anything to make a few quid. This is a ludicrous charge.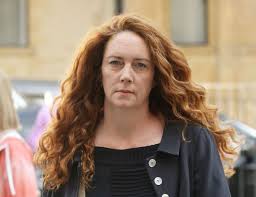 In truth there wasn't that much evidence against any of the accused. Phone hacking went on over an extended period at the NoW and, in all probability, other Fleet Street papers. Brooks (left), Coulson and Kuttner said they didn't know about it despite the fact that hacker-in-chief Glenn Mulcaire (who also went to jail) was being paid !00 grand a year. Small change, obviously.
But that perception isn't evidence. Coulson was probably undone by the testimony of Dan Evans, a Sunday Mirror hack who he hired, according to Evans, to hack phones. That was as close to solid evidence as the prosecution managed.
So not really a surprise although there'll be question marks over the Crown Prosecution Service's case. Did they really think they had enough evidence to charge the lot of them?
Does it matter? Not that much now; the NoW was closed by Rupert Murdoch, thereby removing a blot from the media landscape, and politicians like PM David Cameron (who's apologised for hiring Coulson, see below) might think twice about cosying up to the tabloid press in future (Cameron was also a big fan of Brooks). We should have a better behaved press – yes, the press has to be able investigate wrongdoing but the NoW was completely out of control, a supposed law unto itself.

As for fragrant Mrs Brooks…have we heard the last of her? Doubt it somehow.