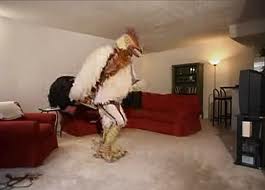 Burger King has a new line-up of clients – CMO Axel Schwan and senior VP global brand marketing Fernando Machada – and the latter seems to have been the driving force behind the appointment of South America-based Ogilvy offshoot David as its first lead global creative agency.
Machada worked with David on Unilever's much-lauded 'Real Beauty' campaign and the Burger King lead role has gone to David without a pitch.
David, named after Ogilvy & Mather founder David Ogilvy, was formed in 2011 by former Ogilvy execs Gaston Bigio, Anselmo Ramos and Fernando Musa. Creative director Ramos will relocate to a new office in Miami to handle Burger King.
Burger King's advertising has been a mess since it fired Crispin Porter+Bogusky a few years ago. This week the company brought back CP+B's 'Subservient Chicken' invention (above) in an online campaign. The private equity-owned company has performed reasonably well financially though and clearly thinks the David crew can help it increase the pressure on market leader McDonald's, which recently expressed its own dissatisfaction with its North American agencies.
And, while David may be a relatively new kid on the block, it's another big global win for ultimate owner WPP.