This is all a bit complicated so let's take it from the top.
IMG, the sports marketing company founded by the late Mark McCormack, has been sold to talent agency William Morris Endeavor, which now owns 49 per cent of Droga5, and private equity group Silver Lake for $2.3bn. Silver Lake also owns 31 per cent of WME and is, presumably, supplying most of the funds for WME's share of these deals.
IMG is quite a catch (albeit a pricey one) as the world, as you may have noticed, has gone sports mad. WPP's Sir Martin Sorrell said earlier this year that he would like to buy it – but couldn't afford it. Meaning that his shareholders wouldn't like it. WME's rival Creative Artists Agency is reported to been an early stage bidder.
So now WME/Silver Lake have a pretty impressive collection of media assets: WME's own successful business (it represents a good selection of Hollywood's A-List), arguably the hottest ad agency on the planet (Droga5 is our joint agency of the year with BBH) and now the biggest specialist sports marketing and media business.
Which, as the world competes frantically for broadcast content (online as well), makes it/them a pretty serious player.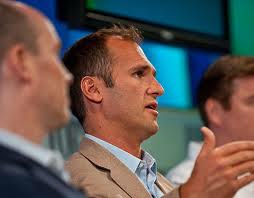 Silver Lake managing partner Egon Durban (left) says: "IMG is well positioned in large and expanding end markets, with significant and untapped potential for growth. We look forward to building on IMG's illustrious heritage by accelerating its existing growth plans and expanding the company's digital platform."
Which could really mean anything. A still unanswered question is Silver Lake's intention. Is it just a financial investor in these companies or does it intend to stay in for the long term; maybe by building a big global broadcast business. A content-based WPP, if you like.
As for D5, this latest deal gives it privileged access to yet more stuff; which ought to help it attract some more big global advertisers who want to enlist the stars of sport as well as stage and screen in their marketing campaigns. On the face of it, David Droga seems to have chosen his expansion partner wisely – if Silver Lake has the appetite to play a long game.