WPP's Sir Martin Sorrell reckons there'll be a big brain drain – talent fall-out – from Omnicom and Publicis Groupe when their mega-merger actually completes some time next year.
This, he believes, will benefit the likes of WPP – presumably because it will look agile and somehow cuddly in contrast. We'll see about that one.
Part of WPP's post-that-merger strategy will also be to try to pinch clients and this strategy is sure to highlight the attractions of 'Team- this-and-that,' bespoke units or even separate agencies dedicated to handling one big client. It's a wheeze that, despite its unpopularity in many quarters, has succeeded in attracting a number of biggies to WPP.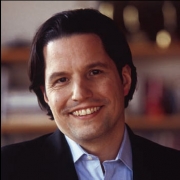 So it's interesting to note a story in Ad Age reporting that the giant US Sprint telecoms account has moved its above-the-line work, all $800m of it, to a new agency Figliulo & Partners, started last summer by former TBWA creative director Mark Figliulo (left).
The decision follows the announcement that CMO Bill Malloy, who only joined in 2011 is on his way. Malloy's big decision was to fire Goodby Silverstein and move the business to 'Team Sprint,' a Publicis Groupe collective headed by Digitas with Leo Burnett handling the above-the-line ads.
Which, presumably, hasn't worked out too well, at least as far as some senior Sprint honchos are concerned. Sprint's performance has sagged in the past year. But it's still rather startling to see the business move to a new, presumably small start-up. It's certainly one in the eye for the 'Team' concept (although Sir Martin would doubtless say that it just goes to show that PG isn't very good at it).
Quite what the attractions of Figliulo & Partners are we know not, because Figliulo himself (unlike just about every new kid on the block with a big win in recorded history) isn't saying anything – probably wisely.
But could this be another example of a trend? Of bright sparks getting tired of all the marcoms bureaucracy and deciding to go on their own? And some clients, at least, coming to the conclusion that they want this talent, not a team of so-so's dragged on to the business, who need to be introduced to each other in the first meeting.
Well, we'll see. It will only become a meaningful trend if the likes of Figliulo and longer established start-ups like Gerry Graf's Barton F Graf 9000 continue to plough their own furrows and resist the temptation to sell out to their former employers a few years down the line.