WPP appears to have nudged ahead of its two biggest rivals Omnicom and Publicis Groupe (about to be one soon, of course) in the the third quarter of 2013, reporting like for like growth of five per cent (3.8 per cent was forecast by most analysts). Omnicom reported 4.1 per cent while PG dropped back somewhat on earlier in the year with 3.5 per cent.
The broader picture is of a rapidly recovering ad market, with the 'old markets' of the US (WPP revenues rose 4.6 per cent there), the UK (8.1 per cent) and even continental Europe (2.5 per cent) to the fore.
By activity WPP says advertising and media investment management, data investment management (research to you and me) and healthcare communications performed most strongly. PR and public affairs continues to languish. WPP claims about $5bn of new business gains. The full results are here.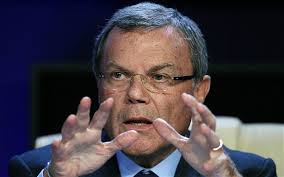 The company, led by Sir Martin Sorrell (left), even managed to reduced its net debt although only by a modest £61m and debt still amounts to a chunky £3.08bn which suggests that the marcoms giant is still suffering some indigestion from al the many companies (most recently, in terms of big deals, ACQA) it has swallowed over the past two decades.
Which doesn't, on the face of it, give Sorrell much scope for the kind of further big deal that would propel WPP back to world leader once the POG merger (WPP managers seem to be under a three-line whip to call it this) goes through as it surely will next year. Interpublic (IPG) is valued at around £4bn after reporting disappointing third quarter figures while Havas, the likeliest option although it wouldn't propel WPP to top spot, is valued at £2.1bn.
Add in at least a 30 per cent premium for a successful bid for either and you might be forced to the conclusion that there won't be one, from WPP anyway.
Well we shall see. Sorrell says he's happy as things are; confident he can pick up some business and people from the POG merger fallout. But, if size is your thing and it certainly has been historically with Sorrell and WPP, the POG deal – essentially a nil premium merger costing very little – seems to have painted the restless knight into a corner.