It now appears there is a God of the good guys – up there at 35,000 feet.
Having worked on several airline projects over the years I've been amazed at the continued upward trajectory of Ryanair year after year. Having access to all this research data, their growth has always confounded me, given the negative attitudes so many passengers have towards the airline.
It has shaken my confidence in the belief that strong brands need the support of the public at large to survive and prosper.
However Ryanair issued a shock profits warning last month which sent shares diving by 14 per cent. Then today there's news that the French government are hitting Ryanair with a £6.6m penalty for alleged violation of the country's labour laws. Add to that the U-turn on customer complaints where the airline is now, belatedly, implementing a better system to address their dismal customer relations record.
Ryanair blamed their profit warning on the UK heat wave, saying it meant potential passengers opted for 'staycations' rather than flying off to the sun. Adding to further poor news, Michael O'Leary, the vocal CEO, also warned of slow autumn demand, forcing them to ground 80 aircraft over the winter period.
Now turn to easyJet. EasyJet have reported strong demand in July and August, they saw 4.8 per cent lift in passenger numbers in September and their full year profit forecast is at the top of expectations at £470-480m. They also claim they have already sold a quarter of all their seats in the first half of the 2014 financial year. The City has reacted very positively
So in simple terms Ryanair is slipping and easyJet is climbing. What could be the reasons behind these contrasting fortunes?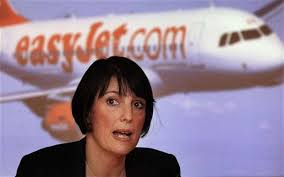 Since Carolyn McCall (left) arrived as CEO of easyJet a series of initiatives have been implemented that add value to the easyJet offering as they address opportunities such as people travelling on business, providing flexible tickets and, importantly, promoting their brand with well-crafted advertising; the current TV work 'The easyJet generation' sets a perception and positioning that creates clear blue water between themselves and the cheap positioning of Ryanair. Also easyJet has been successful in getting on to corporately-approved airline lists such as Citibank.
Turning to the other end of the telescope, the travelling public, research repeatedly confirms there are a set of related considerations that influence the choice of airline for the independent passenger. They are convenience, value, price and risk.
Price isn't the driver for the majority of travellers but is a key consideration whereas risk is a major consideration, in particular if people are arranging family trips. Research we conducted last year across Europe for an airline clearly identified the risk consideration as being a very important factor. Given the flight is the start of a holiday many people do not want to have a bad experience, it should be enjoyable. This is where Ryanair fell down badly; the expectation was that flying with them could be a miserable experience.
Further the top line positioning of airline brands is also an influencer.
The UK players appear to be settling down to owning their own space in the minds of the public. BA is 'good quality', Virgin Atlantic is 'good time', easyJet is 'good value' and then we have Ryanair, let's be generous here, 'good price'. Flybe, Monarch, Thomas Cook, Jet2, Thompsons all occupy a secondary position a long way behind the four main players.
EasyJet have shrugged off the 'cheap flight' tag and have neatly positioned themselves between BA, perceived to be expensive, and Ryanair, perceived to be cheap but unpleasant. Michael O'Leary (left) continues to reinforce the general perception of Ryanair. Mr. O'Leary also pours scorn on advertising agencies claiming they are perfectly capable of doing it in-house; it feels like he is out of step with the successful, admired brands in the UK, e.g. John Lewis.
In my view easyJet is getting close to a Virgin-like brand perception, which would be no bad thing.
Lying behind the current news are some pure plane-spotter facts. Ryanair's fleet of aircraft is 303 whereas easyJet's is 196, both short haul only; BA out of interest is 262, short and long haul, and Virgin 44, long haul only today but about to enter short haul. Let's assume the overall market growth for short haul flights is slowing then capacity becomes a challenge, as in over capacity. A classic business problem when a market reaches saturation.
Ryanair with 107 more aircraft than easyJet faces far greater pressure to fill those very expensive assets. As they have grounded 80 for the winter, one quarter of their fleet, it brings them much closer to the easyJet fleet but at a huge cost. Grounded aircraft are big cash drains. Meanwhile easyJet is keeping all of its fleet in the air.
Easyjet founder and major shareholder Stelios has cautioned the easyJet board for some time about avoiding an increase in the fleet due to the dangers of over-capacity. Maybe his crystal ball is working after all?
So if there are winners and losers in the appeal of the brand, which affects sales, brand share, yield (value per seat sold), load factors (% of seats sold), it looks today that Ryanair has some serious challenges to face whereas Carolyn McCall only needs to keep her hands on the tiller to continue to guide easyJet onwards and upwards.
As Bill Bernbach famously said "If you stand for something you have people for you and people against you, if you stand for nothing you have neither". This could not be more true than in the airline market and it looks like easyJet has more people for them whereas Ryanair has more people against them. But that has been Michael O'Leary's intention.
I just hope for Ryanair's sake they don't crash and burn.