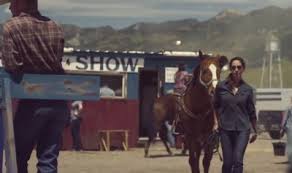 A recovering auto market is one of the drivers of the (relatively) renascent US economy. At the same time Americans are supposed to be switching to European-style fuel-efficient makes.
Well some of them might be but most of them seem to be reverting to type and buying bloody great trucks, hence the importance of General Motors' top-selling Chevy Silverado.
Interpublic's McCann has muscled in on most of the Chevy account, annexing Joel Ewanick's Goodby Silverstein plus McCann construct Commonwealth, but Silverado is at Publicis Groupe's Leo Burnett.
So a lot is riding on the new campaign for the upgraded Silverado, for both client and agency. Another issue for Burnett was the need to use the new Chevy line 'Find New Roads.'

And, you have to say, it's pulled off this tricky task rather neatly with the agreeable spin of giving this rather macho truck a female, mustang-riding (slight exaggeration) owner/rider.
A nice bit of Americana.