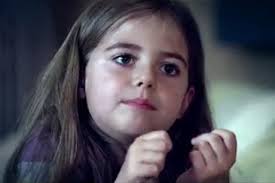 This is a tricky brief: the NSPCC reckons there's a need post-Jimmy Savile to educate parents on how to talk to/instruct their children that 'privates are private.' And, presumably, avoid dodgy-looking B-List celebs working for the BBC.
The BBC's John Humphrys (absolutely no connection to the above) interviewed someone from the NSPCC this morning and he could scarcely believe that parents needed educating in such matters. But, no doubt, some of them do.
One of the problems with these campaign is that catchphrase is heaped on Google keyword so we have the 'The Underwear Rule' as the title of the campaign, talking 'pants' as something else and 'privates are privates' just to round it off. One might have sufficed.

So how has agency Inferno dealt with this tricky brief? Pretty well really, it could easily have been shouty and unwatchable. Director Joanna Bailey at Bare Films (slightly unfortunate naming coincidence) has done a good job too.