Years ago Fuji's corporate mission statement was, allegedly, 'Kill Kodak'; now Samsung's seems to be 'Kill Apple,' or, at least, get there first.
Its new Galaxy phones are bigger and, some say, better than the iPhone, it sells more tablets than Apple does iPads.
Now it's produced a 'smart TV' that appears to do most of the things that Apple's long-expected Apple TV was supposed to do including showing your favourite types of programme on five screens without you doing anything (except having what you thought were your favourite viewing preferences played back at you, of course). So don't go round telling everybody that you don't watch Countdown (or worse) because the Smart TV knows you do.
Sounds an absolute nightmare – as is this 'global' launch campaign 'Charge' from the UK's CHI in some respects.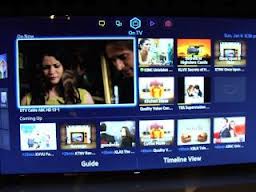 You get the point(s): everybody's rushing to buy one/you can mix and match all sorts of clever stuff for your own programme menu. But it's a bit of a mess.
Maybe the creative team have been watching too many episodes of Game of Thrones. Vestal virgins rugby tackling Roman legionaries, indeed.