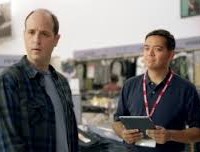 DraftFCB could do with a winner or three and it seems to have produced one with this ad/online film for US retailer KMart's online operation which has become, arguably, adland's biggest gross-out online hit to date with zillions of online views, shares and Tweets.
KMart is reviewing its account so, from DraftFCB's point of view, this is timely to say the least. But subtle it ain't..

Elsewhere in the US, and not a million miles removed, is this rather sweet spot from Deutsch LA for Taco Bell; making the proposition that your first kiss tastes better if it also tastes of Dorito-flavoured Tacos.

And they say romance is dead.
The denizens of KMart and Taco Bell are hardly members of an elite but Jack Daniel's is trying to create one with its first TV campaign for Premium brand Gentleman Jack, launched way back in 1988.
At just about any time in the preceding 25 years such an ad would have featured a leather-upholstered stuffy old club but agency Arnold Worldwide has chosen to site host actor Titus Welliver in a rather sinister alley, albeit with the accoutrements of Gentleman land.

And, as you'd expect these days, there's an Order of Gentlemen you can join.