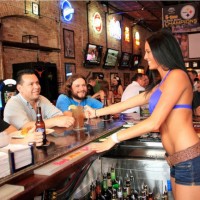 Marketing is all about looking for an angle and one of the most successful in the branded restaurant trade is breasts – as exemplified by the $1bn turnover US chain Hooters.
Now entrepreneur Doug Guller is trying to steal a march on his mammary-obsessed rivals (who also include Tilted Kilt, Mugs N Jugs and Twin Peaks) by trademarking the word 'breastaurants' for his Texas Bikinis Sports Bar and Grill, which he calls 'America's only sports breastaurant.'

Tilted Kilt's an odd one: can't quite see the angle of tilt in this film from an opening in 2010 – although, for aficionados, there are plenty of boobs.

And lots of happy (often quite large) happy diners of both sexes it seems.
When will be the boobs and kilts hit KFC and McDonald's?