Sir Martin being Sir Martin Sorrell of course, not another new rapper on the block.
WPP is planning to invest up to $10m in SFX Music, Robert Sillerman's new online media business built around dance music.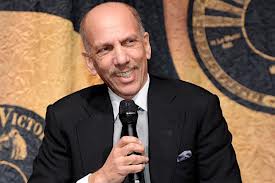 Sillerman (left) says he plans to build a $1 billion empire largely around the appeal of dance music, and his acquisitions so far have included festival promoters, nightclubs and a music download store, Beatport. WPP's involvement is intended to attract sponsorship and other business.
"WPP recognizes the power of dance music to coalesce and address an increasingly difficult-to-reach audience," Sillerman says. "Clearly their endorsement to the overall marketing community, and in particular to their clients, provides a jump start to fascinating sponsorship and marketing opportunities."
WPP's Sorrell says: "These are areas of content that we think are interesting to the younger age groups, particularly in digital, which are the age groups of interest to our clients."
Good to know that sir Martin, who has invested WPP's money in a number of new media ventures over the years (some of which have turned out to be successes) is still dancin'.