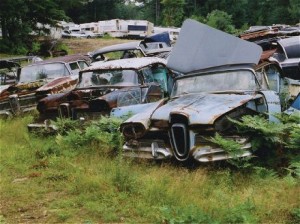 The death late last month of Roy Brown Jr, aged 96, is a timely reminder of that old adage: success has many authors, failure but one scapegoat. The reality, as we shall see, is not uncommonly the inverse.
Brown was Ford's top designer during the Fifties and it was his misfortune to be saddled with historical responsibility for one of the greatest marketing disasters of all time. The Ford Edsel was conceived in 1955, born in the 1958 model year and unceremoniously euthanised in late November 1959. In that time it had cost Ford a record $350m, the equivalent in today's money of about $2.8tr.
Critics rounded on the controversial "horse-collar" or "toilet-seat" chrome grille, in which some amateur psychologists even descried a vulva, as the car's killer feature. Admittedly, over 50 years later, it's hard to regard that grille as an aesthetic triumph – but with hindsight, it's surely no more than a fairly conventional element of the overblown fin-styled float-boats of the time. In any case, Brown was not ultimately responsible for the grille. His concept was a much more restrained vertical opening, perhaps à la Alfa; it was overruled by Ford engineers, who deemed it too narrow for radiator-coolant efficiency.
The wider truth about the Edsel – and the calamity that engulfed it – is that it was not just an automobile style, not just a car, but a range of cars, a new manufacturing division and, most disastrous misconception of all, a market segment that never existed.
In reviewing the consumer boom in 1950s America, Ford market "research" had concluded the car manufacturer was in need of more careful market segmentation. Its top end range –Lincoln and Mercury – was found to be competing – horror of horrors – with more downmarket marques such as Oldsmobile and Buick at General Motors. Solution: push Lincoln further upscale with the new Continental marque, which would compete more credibly with Cadillac. And introduce a new mid-market marque, the Edsel, which would slot in just below Mercury and just above Ford.
Simple, eh? Except Ford senior management then went on to commit a series of textbook marketing errors. The research was fatally flawed: by 1957 middle Americans were tightening their belts as a mini-recession beckoned. If anything, they were looking downmarket, at more value for money. Speaking of which, Ford then committed error number two, it got greedy with its pricing. The new segment competed nearly head on with Mercury, undermining the latter's perceived value. At the same time, the bottom end of the Edsel range overlapped Ford's better-equipped and better-value-for-money Fairlane 500.
Error number three was the name. No one had a clue what it should be, so the task was delegated to Edsel's agency, Foote Cone & Belding – which duly obliged with no less than 6,000 paralysing suggestions, none of which quite did the business. True, four of them – Citation, Corsair, Pacer and Ranger – ended up as model names. But that still left the awkward issue of the umbrella brand unresolved. What then happened almost beggars belief. While Ford chairman Henry Ford II – a known sceptic of the whole brand segmentation idea – was abroad, the board took it upon themselves to name the marque after his father, the oddly-named Edsel – in honour of the Ford family. An unintentional hostage to fortune if ever there was one.
All things considered, the Edsel actually had a reasonable launch. It undershot expectations, but still managed to be one of the biggest model launches to date. From there on in, however, it was all downhill. As the recession bit and sales stalled, the vultures began to circle. Some actually thought the styling and layout of the vehicle (which shared a platform with other Ford marques) was too conventional (!). Others criticised the range for coming up with innovations, such as the Teletouch automatic transmission selector, which were too complex for the consumer of the time. And certainly there were reliability and after-market problems.
Getting the picture? Biffed on all sides, sales tanking; enter Robert McNamara – Hank the Deuce's axeman. Better known to history as the man who, as Secretary of Defense, thought up the "body-count" as a means of conjuring defeat in Vietnam into victory, in the late Fifties McNamara (left) was a whizz kid consultant at Ford, who shared his chairman's deeply-held conviction (or was that prejudice?) that Ford was over segmented, and would do well to get back to core brand values. It was death by several strategic cuts – cuts in the marketing and advertising budget; cuts in the production budget. The separate Edsel division was soon dissolved, but the Edsel limped on for a while as rebadged, retrimmed and overpriced Ford models in all but name.
And Roy Brown, the man who got blamed for it in the popular imagination? He lived to fight another day, as chief designer of Ford's first world-car, the Cortina. Not only that, he kept faith with the Edsel, an immaculate example of which he kept running until his dying days.
For Brown's estate, at any rate, the Edsel will have proved a good investment. Showroom-condition models now achieve prices in excess of $100,000.