CBS is trying to sell its CBS Outdoor out of home business outside the US (in the US it's been changed into a real estate investment trust) and US company VeriFone is tipped as a likely bidder.
VeriFone claims to the world leader in point of sale payment systems and already work in partnership with a number of out of home media owners attracted by the ability to point a smartphone at a digital poster and make a purchase.
VeriFone has dipped a toe in the media owner waters with the purchase of Taxi Media in the UK and has recently been hiring a number of seasoned OOH specialists including Becky Clegg, Kam Jhuti and Andy Bradshaw, who have worked at big outdoor companies including CBS.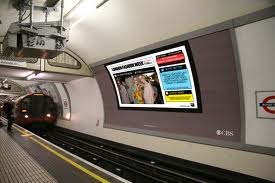 In the UK CBS's biggest bugbear is paying £1.5bn for the London Underground contract before the recession, leaving it saddled with the heavy investment costs incurred installing the extensive London Underground digital poster network while ad budgets were being squeezed. Last year it tried to dump the contract but reached a compromise with LU owner Transport for London when legal action was threatened.
Such a digital network has clear attractions for VeriFone however with its ability to generate immediate revenue from 'smart' poster sites.