Media takeovers are all the rage at the moment – the latest being Liberty Global's $20bn deal for Virgin Media – and the boys in dark glasses who still inhabit the undergrowth of the City of London financial district are busy speculating that someone or other is intent on taking out ITV, the UK's biggest commercial broadcaster.
ITV shares rose to 120p, their highest level since 2007, in a falling London market today following a three per cent rise on Friday.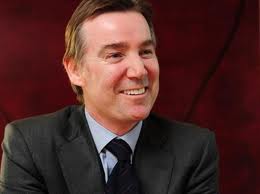 Although the company has performed remarkably well under former Royal Mail (and Saatchi & Saatchi) boss Adam Crozier (left), it's hard to see how such a contrary rise in price can be justified on fundamentals. Crozier has paid down debt and invested heavily and wisely in ITV's production arm (now run by Kevin Lygo) but ITV still derives most of its revenue from UK advertising and the UK economy is, if anything, going backwards.
So why are media companies so popular at the moment, not just with each other but also with the world's larger private equity companies who are desperate to do a deal, any deal?
Valuations were depressed through the recession, a combination of stricken consumer spending and also fears that more conventional media companies would succumb to the depredations of the internet.
Mostly this hasn't happened; the bigger media companies have shown that their brands can be potent online even though the riches some anticipated (ITV included) have failed to materialise. So they're still standing and with an economic recovery expected to happen at some stage (yes, we're all optimists) there is clearly a potential upside for brave investors.
Whether there is for ITV itself, which would likely be burdened with huge amounts of debt in such a deal, is more debatable.