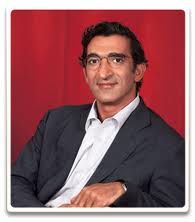 Top Publicis Groupe executive Mathias Emmerich (left) and the former CEO of Leo Burnett Greece Petros Venetis may be charged by Greek prosecutors over a €200m TV airtime broking deal that went disastrously wrong and led to the closure of Leo Burnett in Greece.
Publicis Groupe offered creditors a percentage of the airtime value in the deal in settlement.
One to refuse this kind offer was Greek broadcaster Antenna Group whose complaint against the company and the two individuals has now been taken up by Greek prosecutors.
Alexander Holland, COO of Antenna Group says: "We are pleased that Greek authorities have decided to pursue our case, reflecting the seriousness of the offences committed against Antenna. This decision strengthens our belief that we, along with other TV and radio stations, have been unfairly treated by Publicis' decision to close Leo Burnett Greece, causing a great deal of instability in the Greek media sector.
"I consider the behaviour of Publicis highly unusual, especially considering that they continue to be active in Greece with another subsidiary. As the criminal investigation has now fully launched, we are hopeful of a favourable outcome for the Antenna Group."
PG claims it launched the investigation in the first place into what it calls a "very stupid, very insane" scheme involving a large number of Greek agencies.
Media broking is a continual temptation to agencies as the profits from buying media cheap and selling it high can be enormous. But, as in this case, you can be left with a big bill and no money if your clients decline to buy it.
A €200m punt on the Greek economy looks reckless at best. PG and Leo Burnett will be hoping that's all it turns out to be.