WPP chief Sir Martin Sorrell has rightly been basking in the reflected glory of the Cannes sunshine. Three successive years, three successive triumphs as holding company of the year at the International Festival of Creativity. It's the pinnacle moment for a strategy – his own as it happens, but one for which worldwide creative director John O'Keeffe has done all the hard implementation – designed to kick into touch that old myth about Omnicom's creative supremacy.
Martin, they used to say, has Asia (meaning he's a shrewd strategist) but John (Wren, Omnicom CEO) has all the brands. Not any more. In the eternal battle for Cannes "statues", WPP notched up a convincing lead of 2067 points over Omnicom, in number two position with 1552. Publicis Groupe trailed in third place with 989.5 (where did that half-point come from? No idea).
Just to rub the triumph in, a leading WPP agency, Ogilvy & Mather, became the first network ever to win more than 100 lions and its Sao Paulo shop was named agency of the year. So now Martin can boast about having the brands, as well as Asia. Which is more than Alexander the Great could ever do.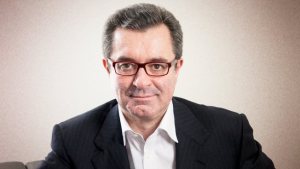 But when it sounds too good to be true, it usually is. A few days after the festival ended, news that Omnicom was crying foul over the final Lions tally left Sir Martin spluttering into his breakfast of fresh strawberries at Connaught's. His temper will not have improved on learning the identity of the trouble-fête behind all this mischief: none other than Mainardo de Nardis, CEO of Omnicom's principal media planning and buying network, OMD Worldwide. Mainardo (pictured) and Sir Martin go back a long way…
More of that in a moment, though. First, let's get down and dirty with some relatively boring Cannes festival award technicalities. The substance of de Nardis' complaint is that WPP media company GroupM has massively over-claimed in putting out a statement – last Wednesday – saying it had won 45 awards, more than any other media agency holding company. Not nearly so, according to Omnicom. Thirty of the Lions (i.e., awards) claimed by GroupM are not verified on the Cannes Lions winners' website.
Doh? Well, a majority of GroupM's wins should be disqualified because its subsidiary agencies were not specified in the original competition entry. WPP may well have won something, on the creative side, but for whatever reason, failed to catalogue the media achievement. After the wins were announced, according to Omnicom, GroupM assiduously went back to each entrant agency and requested they be listed as the media shop for the work.
"Gaming the system," says de Nardis, and a clear violation of the Festival's rules in spirit if not in the letter (Cannes does make allowance for a few genuine oversights, but not wholesale ones). "Rubbish," responds GroupM: just a few inadvertent erors and when the Cannes deadline for amended entries is published tomorrow (July 5), all will be vindicated.
OMD, by the way, won 19 awards, which are seemingly confirmed on the Cannes website. So, if we subtract 30 from GroupM's claimed 45, we can see that OMD has everything to play for.
All this might seem a storm in a teacup to most readers. But fuelling Sorrell's irritation is some history. Mainardo de Nardis was once a senior WPP executive and the relationship with Sorrell did not end pleasantly.
Specifically, de Nardis headed WPP's Mediaedge:CIA, these days called MEC, before leaving for Aegis in 2006. Ironically, in view of what has come later, it was WPP which accused de Nardis of not abiding by the rules. Indeed, it became so convinced that de Nardis was playing a double game – working for a rival while still on WPP gardening leave – that it issued legal proceedings against him.
Interestingly (from a revelatory point of view), the matter went to trial and quite a lot of Machiavellian shenanigans tumbled out concerning de Nardis' relationship with Marco Benatti (left), another former WPP executive who was at that time country manager of CIA in Italy. Although they managed to fall out from time to time, de Nardis and Benatti were (and probably still are) closely tied by family and business interests – for example, they once ran Medianetwork Italia. Benatti was himself the subject of WPP court proceedings, for alleged breach of fiduciary duty in failing to disclose a major holding in an Italian company, Media Club, which he had helped to acquire on WPP's behalf in 2002. The trial lumbered on until 2008. Anyone interested in the minutiae of these (apparently) dusty events might take a look here and here.
So, nothing personal in this statues kerfuffle, eh? One other thing guaranteed to pour salt into old wounds is the prestigious Chanel account, recently up for repitch. Incumbent media agency? MEC. Prospective winner (according to the gossip at Cannes, possibly generated by de Nardis himself): OMD. Actual winner, declared yesterday: WPP, in the guise of a new bespoke agency, Plus – which harbours elements of MEC and Mindshare in its media-buying element.
This post first appeared on Stuart Smith's blog The Politics of Marketing.