Old Spice's Isaiah Mustafa started the fashion for cheesy but not-so-cheesy hunks in ads and they've been with us ever since; latterly in BETC London's revival of the Diet Coke hunk.
Southern Comfort's hero, one of Giles Keeble's Modern Classics, is perhaps the funniest new version to date.
Now Deutsch LA has come up with a further spin on the hunk theme for Diet Dr Pepper; a rather immodest gent called Josh Button.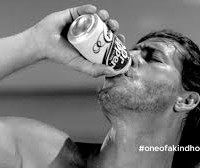 But Button seems to be doing the business, judging by his rapidly-increasing number of social media and YouTube fans.