Whatever took them so long? Plod has finally pounced on four miscreant Mirror Group journalists in a dawn raid conducted by the Weeting (phone hacking) team. And what a haul it has proved to be.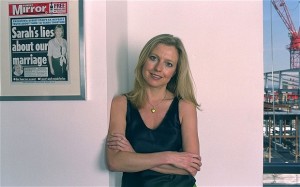 The four include the first serving editor to be arrested: James Scott of the Sunday People. Better known is one of the Street of Shame's favourite hackettes, Tina Weaver (left) – former editor of the Sunday People. The other two are Mark Thomas, former editor of the Sunday Mirror; and Nick Buckley, current deputy editor of the Sunday Mirror.
Senior Trinity Mirror Group management – notably chief executive Sly Bailey and her successor, ex-HMVite Simon Fox – have long been in denial about a phone-hacking scandal within Mirror group portals. A denial which, though oft repeated over the past two years – notably during the Leveson Inquiry – seems to have deceived no one but themselves.
Over 18 months ago, Louise Mensch – a former MP who sat on the House of Commons media select committee – openly taunted Piers Morgan – once editor of the Daily Mirror, but now the fabulously remunerated host of CNN's prime-time talk show – with complicity in a phone-hacking scandal involving Ulrika Jonsson's affair with former England football manager Sven Goran Ericsson. Morgan furiously rebutted the accusation, but was left fuming impotently by parliamentary privilege – the one thing protecting Mensch from an expensive and probably unwinnable libel suit. Later, she did make a mealy-mouthed apology. Sort of.
Few doubted that Mensch was on to something: it seemed highly improbable that Mirror tabloids were entirely immune to the hacking contagion that had reduced Rupert Murdoch's News International to its knees. What was lacking was context and a basis in fact.
We now have that, at least in outline form. And it should be said straight away that the facts do not in any way implicate Morgan. The statement from the Metropolitan Police makes this quite clear: "It is believed [the conspiracy] mainly concerned the Sunday Mirror newspaper and at this stage the primary focus is on the years 2003 and 2004." True, that does not exclude Morgan by date (he was editor of the daily title from 1995 to 2004), but there has been no mention of – still less arrests of former employees at – the Daily Mirror so far.
Nevertheless, I imagine Morgan will be anxiously reaching for his lawyers, lest the net spreads further.
Ironically, Trinity Mirror has just reported its best full-year profits in years, showing Fox's cost-cutting measures are doing their work. How much damage the arrests – and those likely to follow in their wake – will do to TM's share price remains to be seen.
This post first appeared on Stuart Smith's blog The Politics of Marketing.