AMV BBDO has won the UK's RSPCA account, re-uniting it with quite a longstanding client back in the day. AMV won an AAR-led pitch against The&Partnership and BMB.
The RSPCA's Tracey Pritchard says: "The RSPCA has been changing animals' lives for nearly two centuries, but we know there are still huge challenges ahead. The fate of people, animals and our planet is inextricably linked and we can only achieve our vision of a kinder world for animals if we work together.
"We need to get as many people on board as possible to help us continue to change animals' lives now and in the future. We are thrilled to be working with a world-class agency like AMV BBDO, who can help us achieve the very best for animals."
Therein lies a potential banana skin, one agencies are sometimes keen to encounter with such charities. Are you doing the best for animals or trying to save the world? The UK's charities have more than their fair share of zealots who positively welcome mission creep. The other the RSPB (birds) was on the radio fulminating about climate change. Yes but…
AMV CEO Sam Hawkey says: "It feels incredibly good to have the opportunity to work for a great cause, led by exceptional people with an unwavering determination to make powerful behavioural and cultural changing work. We're honoured and thrilled to see what we can achieve together."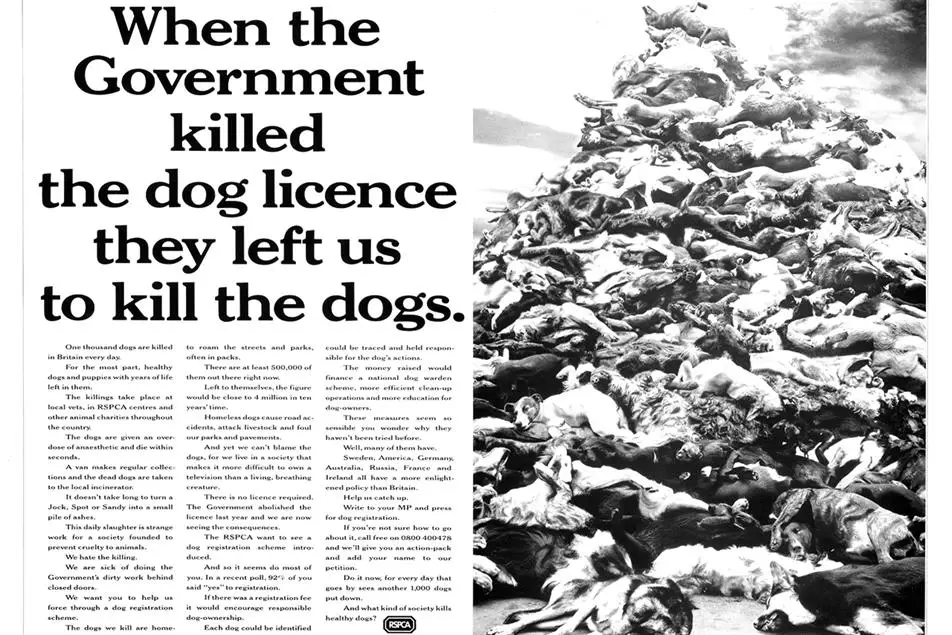 In 2002 the charity and its agency (might have been AMV) got into trouble with a press ad featuring a pile of dead dogs (above.) A tricky one for AMV then, albeit clearly a creative opportunity.