The internet is full of chancers, dare we say bandits, and one who's laying a claim to such a soubriquet is PicRights, which claims to be a resolution service for people whose copyright has been infringed.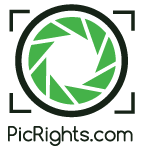 We've recently had a number of aggressive approaches from PicRights and others like it (who may be related) about pics we used a decade ago – when MAA's readers could be counted on a pinhead – purporting to represent the likes of rights owners PA, Reuters and Kodak.
One such missive from a company in Germany, claiming to represent Kodak, banged on about a tiny, single image and claimed €1700 euros, the alleged photographer's usual dues. Rather doubt this. The photographer wasn't specified and we have no proof it was theirs, whoever he or she may be.
And, of course, the follow-up documentation from messrs Manleys, based in Chester, doesn't specify who the photographer was either. Are they officially acting for Kodak – I think we should be told.
PicRights' own claim, allegedly on behalf of Reuters, amounts to £7500 for a dozen or so ancient images which may well have been plucked out of the ether by a kid on work experience. They used a firm in Glasgow, (presumably recognised by the Law Society) to whom we may return.
So there's something very nasty going on and if you look on the internet you'll see lots of stories about bloggers and the like being driven to distraction and worse by these characters. They may have organised things so they stay on the right side of the law – thanks to their solicitor friends – but they're an abomination.
An issue for the likes of Kodak, PA and Reuters I'd say (do they get any money from these claims and what do they feel about extortion?) and the Law Society, which is supposed to uphold the highest standards of English law and its practitioners. Well, supposed to.
Doubtless there'll be more.
PS PickRights UK resides at a serviced office at 133 Whitechapel High Street. But I doubt you'll find anyone in.