Video consumption is changing and so is Out of Home, leading to an exciting opportunity demonstrating how video formats can live on OOH screens. Pushing brands' creative boundaries to enable social video to thrive on another platform is the basis of an initiative we've driven at Talon this year. And it works – engaging more people and increasing campaign effectiveness by using the strengths of both channels.
An industry growing at nearly 50 per cent, worth £1.61bn, has seen consumers steadily migrate from long form storytelling video content to sound-off clips placed within busy, social environments designed to reach mobile users on-the-go, capturing their attention in less than one second. Online, this content often appears in out-stream formats within social media feeds. Offline, we believe that this should appear on OOH screens.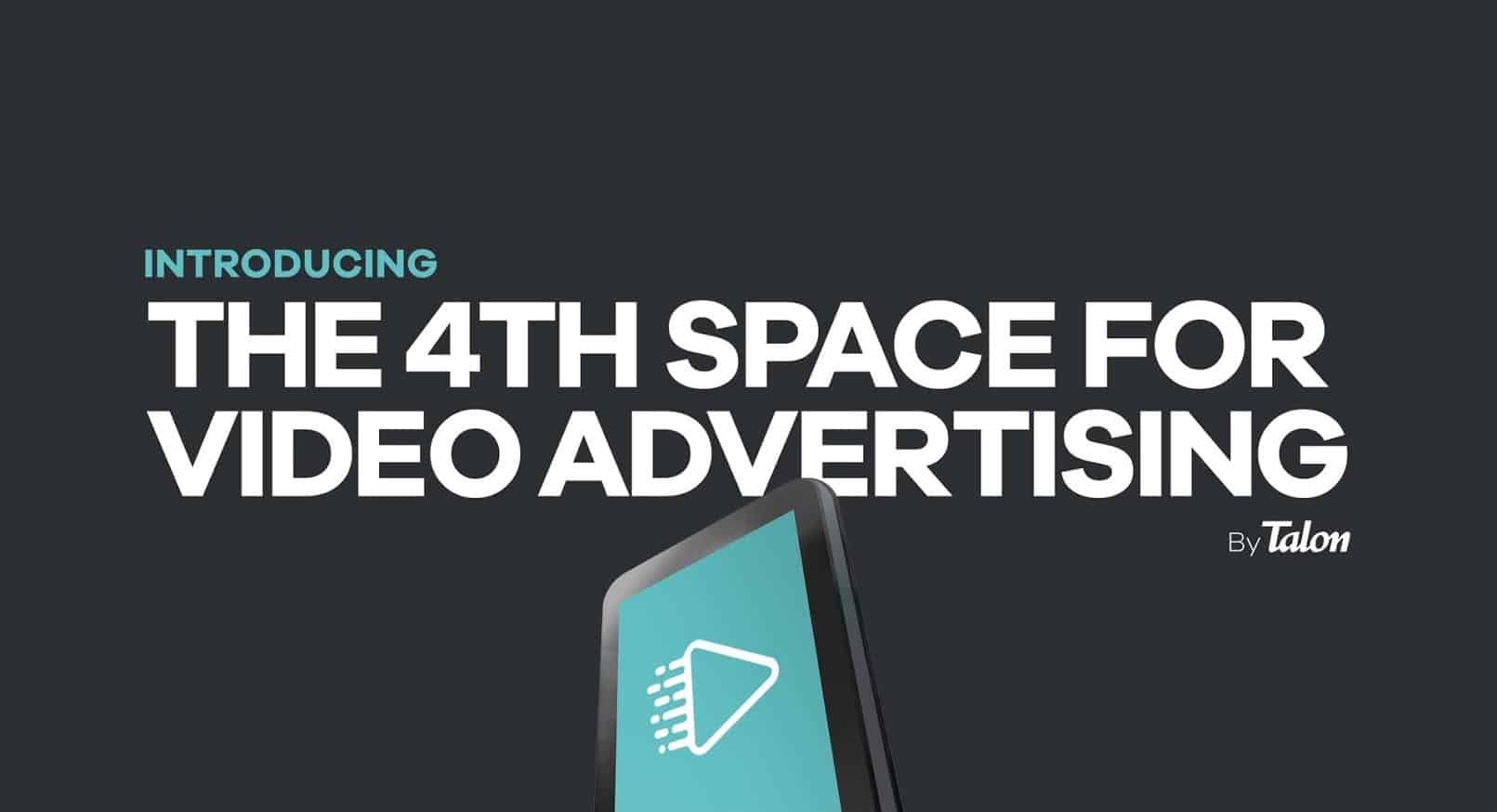 Digital OOH's rapid growth to reach a critical mass of inventory and impact mirrors the rise of video advertising and can accommodate much of the same content. We undertook a research project to look at the impact across a number of brands and key metrics, seeking to understand what the impact of adding Full Motion Digital OOH (FMDOOH) to a social campaign would be. We partnered with three advertisers with plans to deliver social video advertising campaigns in summer 2018. Partnering with On Device research, we were able to measure the effectiveness of cross-media campaigns with a great deal of accuracy based on location behaviours.
We measured both media elements in isolation and in partnership to establish the effects on Brand Impact and Footfall.
Firstly, the brand impact study was a quantitative element measuring brand, media and creative metrics among those exposed to different media elements of the campaigns. These samples were achieved through the tracking of panellists' mobile device IDs to understand their location and exposure and the establishment of test and control groups, also closely matched on behaviours, travel, age, gender and media habits.
To support the brand metrics, the second element of the research measured the impact FMDOOH had on driving consumers in-store. For two of the campaigns, we were able to identify those exposed to the FMDOOH element, track them by their mobile device IDs and pinpoint their locations – connecting exposure to store visits. As with the brand impact component, On Device created a control group matched on demographics, location behaviours and visitation, to determine the total impact of the campaign in driving footfall.
The research was relatively complex, but able to measure the incremental effect on social media that FMDOOH can generate. It also answered bespoke client objectives for our partners.
Results
The research shows that by adding FMDOOH to a social campaign, effectiveness across the brand funnel metrics increased on average by 23 per cent. Each measure improved consistently with a positive impact on awareness, emotional response, top message take out, consideration, purchase intent and consumer action.
Stripping the results back to basics, to fit into the AIDA marketing models, we fitted these brand metrics into Awareness, Interest, Desire and Action, thus able to identify where FMDOOH and social media worked hardest, in isolation and together.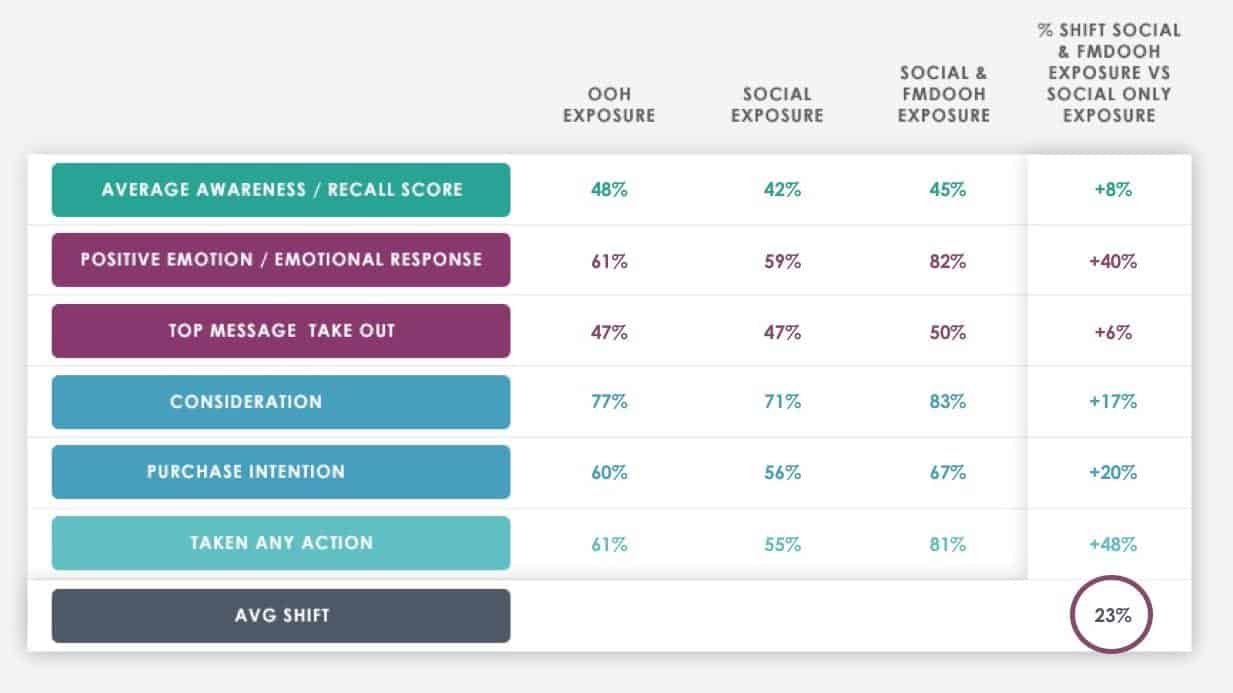 Perhaps contrary to what we thought, FMDOOH is working harder at the top end and bottom end of the funnel in driving awareness and increasing consumer action. In fact the strongest shift we witnessed when adding FMDOOH to a social plan was within consumer action, with a 48 per cent uplift when consumers had been exposed to both media elements. It's social that comes into play to help generate interest and desire, together with FMDOOH to communicate core messaging and provoke emotion – clearly demonstrating how complementary these two media elements are in driving brand value.

Delving further into the research, and firstly looking at awareness – the holy grail of capturing people's attention in this content-overloaded world – we saw that adding FMDOOH to a social plan generated a shift of eight per cent (across brand awareness and campaign recall) for those exposed to both media elements versus only social. It was within awareness where FMDOOH worked hardest, reinforcing the power of OOH (and digital OOH) in driving brand fame and saliency through reach.
The second element of the funnel is interest, where we looked at the emotional response to the campaigns as well as key message take out. It was here we saw both media channels working in unison, demonstrating a significantly stronger positive sentiment from dual media exposure.
Over eight in ten exposed to both media elements had a positive emotion towards the campaign, a 40 per cent increase versus those only exposed to the social element; the second largest shift we saw when FMDOOH was added to a social plan. For FMDOOH, the average positive response was over 60 per cent.
This showed a traditional fame-building channel generating real emotion among consumers. Within top message take out, we saw the two individual media elements performing equally to communicate campaign messaging. The largest shifts from FMDOOH 'generated excitement' (+66 per cent), 'encouraged consumers to get planning' (+52 per cent), created a 'need to try the product' (+60 per cent), identified a brand 'for families' (+38 per cent), 'promoted different communities' (+28 per cent) and 'increased product knowledge' (+14 per cent).
These are great examples of how both channels positively engaged consumers and translated brands' core messaging. For one of the case studies – Pride in London – the campaign really drove emotional 'excitement;' video advertising at its best and playing out successfully in the public space.
Looking at the behaviour-changing metrics, dual media exposure also created desire, encouraging brand consideration with a +17 per cent uplift (to 83 per cent). Exposure to both social and FMDOOH campaigns drove real purchase intent, with 67 per cent of consumers saying they were likely to purchase from the brand – a 20 per cent increase.
And in the final defining section – measuring consumer action – we saw the largest shift across the brand funnel of +48 per cent when FMDOOH was added to a social plan. Over 80 per cent took some kind of action, for example web visits (+31 per cent), word of mouth (+86 per cent) and product purchase (+44 per cent). Here, not only did we see digital actions – it's not just social media that makes things go viral – but personal ones too, with FMDOOH is driving one of the oldest forms of marketing, closing the brand funnel and driving consumer action.
The second element of the study focused on measuring store effect among those just exposed to the FMDOOH of the campaign. Through the analysis of device IDs we were able to identify those exposed to the FMDOOH element, track their locations and identify their store visits. We saw – across the two relevant case studies – a 58 per cent increase in new visitors exposed to the FMDOOH campaign. For one of the campaigns, that was the equivalent of over 7,600 visitors.
These results – along with the brand impact metrics – validate the positive impact FMDOOH video has on social campaign effectiveness, in particular driving consumer action. Creative authority Sir John Hegarty recently said: "If you want your advertising to be more effective, it's not just what you say but also where you say it." These results couldn't underpin this more. Demonstrating that pushing a social video campaign through FMDOOH increases effectiveness across the board, showing how digital OOH can truly amplify the effect of video advertising and reaching more people and driving more action.
As FMDOOH continues to transform the OOH landscape, this is great news for brands seeking the right combination of branding and activation in their comms.
Contact: Nick Mawditt – Managing Partner – [email protected]
About Talon: Talon Outdoor is the independent Out of Home media specialist and a significant player in the Out of Home agency sector with a focus on delivering smarter, creative, technology-led and integrated OOH communications. Combining independence with a collaborative approach, Talon promotes open working between agencies, clients and media partners.
Talon is the Campaign Best Places Number 1 Medium sized UK Company to Work For and has also featured in the Sunday Times Fast Track 100 and Best Companies and in LSE's 1000 Companies to Inspire Britain.
Talon handles the Out of Home media for several of the UK's leading advertising brands through Omnicom Media Group UK agencies, along with other agencies including AMS Media Group, JAA, Goodstuff, Ptarmigan Media and Republic of Media.