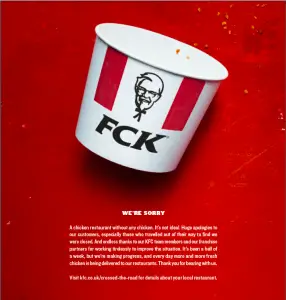 KFC has wittily transposed its name to FCK and taken a full-page press ad in The Sun, with help from agency Mother.
Who knows what's going on behind the scenes at KFC, but in public they are maintaining a light-hearted, "mea culpa" approach to the chicken supply problem.
The relaxed tone may not wash so well with franchisees and zero-hours employees who are personally losing a lot of money over this fiasco, but it seems to have maintained public affection for the brand, for which we have to give KFC credit.
There's also now a website where you can check whether your local KFC is open, which is a nice touch.